More than 30 women had been detained as they protested the trial of four women's rights advocates charged in connection with a peaceful protest in June 2006 against discriminatory laws.
One of the released protesters, Shahla Entesari, told Radio Farda that women's rights activists were planning to gather today in front of parliament to mark international Women's Day and call for equality.
"We will be there and we have called on women [to join us], we will emphasize our democratic demands and will try to prevent violence by acting peacefully," she said.
The UN and several human rights organizations inside and outside Iran had condemned the arrests and called on Iran to end the persecution of women's rights activists.
(with material from advarnews.us,meydaan.com)
Women In Iran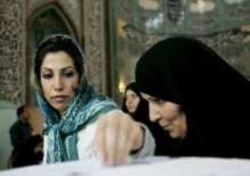 Women in Tehran (epa file photo)

CALLING FOR MORE RIGHTS: Although women played key roles in Iran's 1979 Islamic Revolution, the place of women in post-revolutionary society has been a vexing question. Iranian women have struggled to bring attention to their calls for greater rights in their country's rigid theocratic system, calls that have often clashed with the values proclaimed by conservatives in society. (more)
RELATED ARTICLES
Tehran Police Renew Campaign To Combat 'Un-Islamic' Dress
Iranian Peace Prize Laureate Shirin Ebadi On Women's Rights
Activists Concerned About Self-Immolation Of Iranian-Kurdish Women
The Younger Generation's 'Tehran Blues'
ARCHIVE
RFE/RL's coverage of Iran. RFE/RL's coverage of issues concerning women throughout our broadcast area.

SUBSCRIBE
For a regular review of civil-society developments throughout RFE/RL's broadcast region, subscribe to "RFE/RL (Un)Civil Societies."