Louise Arbour said in a statement that the women had been exercising their right to peaceful assembly when they were detained in Tehran on March 4.
Eight of the detained women have since been released. Others have gone on hunger strikes.
Nima Namdari, the husband of jailed activist Nasrin Afzali, told Radio Farda that some detainees who are on a hunger strike are now experiencing health problems at Evin Prison in Tehran.
"My wife told me that because of the hunger strike, some of those who are held in section 209 [of Evin Prison] are not in a suitable health condition," Namdari said. "Some of the elder women are having difficulties."
The jailed women also reportedly have been interrogated about their work as activisits for human rights.
Radio Farda reports that six more of the detained women protesters were expected to be released later today.
Women In Iran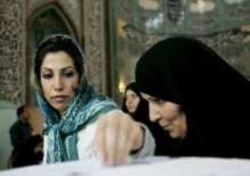 Women in Tehran (epa file photo)

CALLING FOR MORE RIGHTS: Although women played key roles in Iran's 1979 Islamic Revolution, the place of women in post-revolutionary society has been a vexing question. Iranian women have struggled to bring attention to their calls for greater rights in their country's rigid theocratic system, calls that have often clashed with the values proclaimed by conservatives in society. (more)
RELATED ARTICLES
Tehran Police Renew Campaign To Combat 'Un-Islamic' Dress
Iranian Peace Prize Laureate Shirin Ebadi On Women's Rights
Activists Concerned About Self-Immolation Of Iranian-Kurdish Women
The Younger Generation's 'Tehran Blues'
ARCHIVE
RFE/RL's coverage of Iran. RFE/RL's coverage of issues concerning women throughout our broadcast area.

SUBSCRIBE
For a regular review of civil-society developments throughout RFE/RL's broadcast region, subscribe to "RFE/RL (Un)Civil Societies."