The women had gathered outside a court in Tehran on March 4 to show their support for four women's rights activists who went on trial that day for organizing a protest last summer against discriminatory laws. Reports say many of the protesters and the activists are now in jail.
The arrests are the culmination of a year of increasing pressure on women's rights activists, who have been arrested, summoned to court, threatened, and harassed. Their protests have also been disrupted -- in some cases violently -- and their websites have been blocked.
Trying To Silence Activists
Some observers believe the arrests are aimed at intimidating activists who were planning to hold a gathering on March 8 to mark International Women's Day and to protest injustice against women.
The move is also seen as an attempt to silence activists who have been fighting for equal rights.
Many of those who had called for holding a protest in front of the parliament on March 8 are now in jail.
Iranian rights groups report that between 30 and 34 women who were arrested are being held in Tehran's Evin Prison. Among them are four top women's movement leaders: Noushin Ahmadi Khorasani, Parvin Ardalan, Sussan Tahmassebi, and Shahla Entesari.
Right To Freely Assemble
They went on trial on March 4 in connection with a June gathering against laws that they consider discriminatory against women. Charges against them include acting against Iran's national interests and participating in an illegal gathering.
The four leaders were arrested after they left the court and joined other women who had gathered outside Tehran's revolutionary court. They were reportedly holding banners that said: "Holding peaceful gatherings is our absolute right."
Activists say the Iranian Constitution ensures the right to holding a peaceful gathering. Yet police forces disrupted the activists on March 4 and drove the women away in minibuses.
Peyman Aref, a student activist in Tehran, told Radio Farda that police used force against demonstrators.
"They were threatened and they were also beaten up," Aref said. "The crowd -- [which] included more than 50 people -- tried to resist by sitting on the ground and not reacting to the beatings. Finally, around 10:00, female police came and the activists were arrested."
Reaction To Activists' Campaigns?
During the June demonstration, which was also violently dispersed by police, some 70 people were arrested. All of them have since been released.
An Iranian rights group, the Student Committee of the Human Rights Reporters, said today that the families of some of those arrested on March 4 gathered in front of Evin Prison and called for their release. Authorities have said they are investigating the case.
Azadeh Kian, a lecturer in political science and an Iran researcher at France's National Center for Scientific Research (CNRS), believes women's rights advocates are being targeted in connection with two campaigns they have launched in recent months.
One campaign aims to end the practice of stoning to death convicted adulterers. Authorities, however, deny that stoning sentences are being carried out.
Another campaign aims to gather the signatures of one million Iranians who are in favor of changing discriminatory laws and to present these signatures to the parliament. Islamic laws as applied in Iran deny women equal rights in divorce, child custody, inheritance, and other areas.
Kian tells RFE/RL that the campaigns have been well received, leading to concern among Iranian leaders.
'Intolerance For Human Rights'
"The goal of women's rights activists is to gain the support of women from different classes who are in favor of changing the laws but have so far not joined the women's movement," Kian said. "This leads to concern among some of those in power in Iran about the implications of these actions. I see the arrests of activists [on March 4] in this relation; it shows that more and more women want changes in laws and also that women's issues are in fact becoming more and more political."
Human rights groups have expressed concern over the pressure and persecution of women's rights advocates, including those who are calling for reform legislation.
Kian says that by arresting peaceful activists, Iranian leaders are demonstrating their intolerance and lack of respect for human rights.
"It shows once more that under the Islamic establishment, especially under the current government, there is no respect for human rights principles," Kian said. "These women were arrested even though they had not committed any violent or armed action against the establishment. None of the demands of these women are against Islam. This shows that the current government is not ready to accept even the slightest opposition."
The Center of Human Rights Defenders, cofounded by Nobel Peace Prize laureate Shirin Ebadi, today described the March 4 arrests as "illegal" and called on authorities to release all of those arrested.
Women In Iran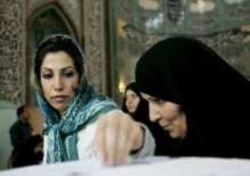 Women in Tehran (epa file photo)

CALLING FOR MORE RIGHTS: Although women played key roles in Iran's 1979 Islamic Revolution, the place of women in post-revolutionary society has been a vexing question. Iranian women have struggled to bring attention to their calls for greater rights in their country's rigid theocratic system, calls that have often clashed with the values proclaimed by conservatives in society. (more)
RELATED ARTICLES
Tehran Police Renew Campaign To Combat 'Un-Islamic' Dress
Iranian Peace Prize Laureate Shirin Ebadi On Women's Rights
Activists Concerned About Self-Immolation Of Iranian-Kurdish Women
The Younger Generation's 'Tehran Blues'
ARCHIVE
RFE/RL's coverage of Iran. RFE/RL's coverage of issues concerning women throughout our broadcast area.

SUBSCRIBE
For a regular review of civil-society developments throughout RFE/RL's broadcast region, subscribe to "RFE/RL (Un)Civil Societies."