This year's annual report, which is mandated by the U.S. Congress, painted a gloomy picture in many countries for 2006, but noted some hopeful trends.

U.S. Secretary of State Condoleezza Rice presented the findings to reporters in Washington and said in many places around the world, human rights are suffering.

"Too often in the past year, we received painful reminders that human rights, though self-evident, are not self-enforcing," she said. "And that mankind's desire to live in freedom, though universally deserved, is still not universally respected."

Rice said full respect for human rights can only flourish if a society has several key elements. "Liberty and human rights require state institutions that function transparently and accountably, a vibrant civil society, an independent judiciary and legislature, a free media, and security forces that can uphold the rule of law and protect the population from violence and extremism," she noted.

The State Department report said the ongoing genocide in Sudan's Darfur region was the world's worst human rights abuse in 2006 -- calling it the "most sobering reality of all." It said mass killings continued to ravage the African country.

At the same time, the report said there was a growing recognition across the world that democracy is the form of government that is best able to bestow dignity, liberty, and equality on people. The report singled out Ukraine, Georgia, Liberia, Indonesia, Morocco, Congo, and Haiti for making some progress, though it said problems remain.

Problems In Russia

Chechnya and other areas of Russia's North Caucasus, the report said, continued to experience "serious human rights violations."


The State Department cited killings and abuses of civilians by both federal and Chechen security forces, and said rebel fighters carried out terrorist bombings and politically motivated disappearances in the region. In a growing number of cases, the European Court of Human Rights has held Russia responsible for these abuses.
In Russia, the report said that in 2006 the government continued to centralize presidential power. Taken together with a compliant State Duma, corruption in law enforcement, political pressure on the judiciary, and restrictions on NGOs and the media, the report said, "these trends resulted in the further erosion of government accountability."
Barry Lowenkron, the assistant U.S. secretary of state for human rights, democracy, and labor, told reporters that the political situation in Russia favors some, and excludes others.
"The notion that there was a level playing field, in terms of electoral politics in Russia, is increasingly suspect," he said. "I think if you take a look at the media, I think if you take a look at the statements coming out of Russian officials -- [they say] that they have something called 'sovereign democracy' or 'managed democracy.' I am probably dating myself, but from my years in the State Department back in the 1980s, I was never big on adjectives [in front of the word] democracy, like 'people's democracy.' And 'sovereign democracy' and 'managed democracy' is problematic."

Civil Society 'Still Trying'

The report also criticized the regime of President Alyaksandr Lukashenka in Belarus for intensifying its repressive policies. But Lowenkron said that country's civil society is still working for freedom.
"There is nothing good to say about the regime in Belarus, except the fact that civil society is still trying," he said. "We had a group from Belarus that came to Washington just last week. I had the privilege of meeting with them. I was interested in their plans. They are not going to give up. They are going to continue to press.
"The citizens of Belarus will find, themselves, that there is an alternative, there is an alternative to Lukashenka, there is an alternative to a regime that suppresses their human rights, and that alternative lies [with] its other neighbors."
The U.S. State Department praised authorities in Georgia for taking steps to improve the human rights situation in their country. The report said Georgia's judicial reforms were especially noteworthy.

By contrast, the human rights situation in both Armenia and Azerbaijan was judged to be poor.

Across Central Asia, the State Department found freedom of speech remains tightly restricted.

In Kyrgyzstan, where human rights improved considerably following the change to democratically elected leadership in 2005, the State Department said the new constitution that was passed in December negated many key checks and balances.

Scourge Of Terrorism

The report said Afghanistan has made important human rights progress since the fall of the Taliban in 2001 but its human rights record remained poor.

On Iran, it said the Tehran government "flagrantly violated freedom of speech and assembly" and continued to "flout domestic and international calls for responsible government by supporting terrorism movements in Syria and Lebanon as well as calling for the destruction of a UN member state."

And the report said that in Iraq, despite the government's "continuing commitment to establish the rule of law, deepening sectarian violence and acts of terrorism seriously undercut human rights and democratic progress during 2006."

As for the United States, the State Department said it recognizes that some of the country's actions against global terrorism "have been questioned," including its detention of foreign suspects.

"We do not issue these reports because we think ourselves perfect, but rather, because we know ourselves to be deeply imperfect, like all human beings and the endeavors that they make," Rice said. "Our democratic system of governance is accountable, but it is not infallible."

Rice said the United States "is committed to continual improvement" of its human rights record.

The State Department's annual study reviews the status of internationally recognized individual, civil, political, and workers' rights, as set forth in the UN's Universal Declaration of Human Rights.

U.S. Report On Global Human Rights
U.S. Report On Global Human Rights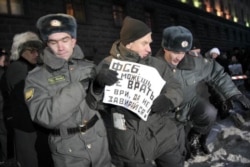 Police in Moscow arrest human rights demonstrators on February 1 (courtesy photo)
THE RECORD ON RIGHTS: On March 8, the U.S. State Department issued its global report on human rights. According to the report, 15 years after the breakup of the Soviet Union, human rights are improving in many post-communist countries. But problems persist in others, it says, despite the worldwide explosion of information and Western efforts to spread democracy. (more)
For more detailed information, see:
Azerbaijan Cited For Political Harassment, Police Brutality
Child Labor, Human Trafficking Cited In U.S. Report On Afghanistan
U.S. Says China, Iran 'Most Systematic' Rights Violators
Human Rights Not A Priority In Central Asia, U.S. Report Says
U.S. Report Points To Serious Abuses In Iraq
Abuses In Chechnya, Centralized Power Cited In U.S Report On Russia
U.S. Says Serious Human Rights Violations Occurring In Iran



SUBSCRIBE
For a regular review of civil-society developments throughout RFE/RL's broadcast region,
subscribe to "RFE/RL (Un)Civil Societies."