Shi'ite Religious Rites Culminate In Central Iraq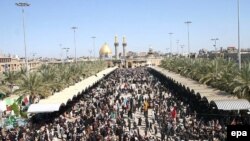 Shi'as at the Imam Husayn shrine in Karbala on March 7 (epa) March 9, 2007 -- Crowds of Shi'ite pilgrims have begun an important religious festival in the Iraqi city of Karbala, south of Baghdad.
Huge crowds have been flying black, green, and yellow Shi'ite banners, while pilgrims have been chanting prayers outside Karbala's Imam Husayn shrine.
Security is tight in the city for the two-day observance marking the end of a 40-day mourning period for the 7th-century death in battle of Imam Husayn, the grandson of the Prophet Muhammad who is revered by Shi'a.
Millions of Shi'ite pilgrims days are estimated to have traveled to Karbala over the past week -- many of them on foot -- despite attacks on pilgrims that have left some 150 travelers dead.