In addition, by-elections and municipal elections will be held this weekend in a number of other regions, along with several referendums.
Two parties, Unified Russia and A Just Russia, are likely to dominate the polls. But opposition groups say both parties are fiercely loyal to the Kremlin, and complain that any real opponents have been sidelined.
Two-Horse Race
Critics say any real opposition has been pushed out of the vote to ensure that parliamentary elections later this year and the presidential election in 2008 go smoothly. An unusually high number of parties has been barred from running in the regional elections on technical grounds.
In St. Petersburg, the local election commission ruled that the opposition Yabloko party could not run in the city's Legislative Assembly elections after 10.5 percent of the signatures gathered for registration were declared invalid. Electoral law allows up to 10 percent of the signatures not to be valid. Yabloko is popular in St. Petersburg, usually receiving between 10 and 20 percent of the vote.
On March 6, Russia's Supreme Court rejected the party's appeal to be reinstated. A senior member of Yabloko in St. Petersburg, Mikhail Amosov, reportedly called the court ruling a "political decision."
St. Petersburg Boycott
Prior to the decision, Yabloko Deputy Chairman Sergei Mitrokhin, a State Duma deputy, said that the party was considering boycotting the vote in St. Petersburg.
"We will do this if the court decides against reinstating Yabloko in the polls. We consider that our candidature was removed unlawfully, under the instruction of the [St. Petersburg] governor, [Valentina] Matviyenko, who has a personal grudge against the opposition," Mitrokhin said.
"Political parties in a lot of cases just look like electoral projects."
But the Central Election Commission, headed by Aleksandr Veshnyakov, argued ahead of today's Supreme Court decision that excluding Yabloko from the ballot in St. Petersburg was justified.
In a number of other regions the Communist Party and the Union of Rightist Forces have been barred from running, although in a few cases they have appealed successfully to be put back on the ballot.
Upcoming Votes
Some commentators say the Kremlin is hoping the March 11 vote will establish two solid, loyal parties before the upcoming parliamentary and presidential elections, and sideline any real opposition.
They believe that President Vladimir Putin, who is due to step down in 2008, is counting on a smooth handover to a successor he has not yet named.
Nikolai Petrov, a political commentator at the Moscow office of the Carnegie Center, says there is clear change in the Kremlin's standing.
"It can be described as a refusal from cooperation with loyal opposition, represented by semi-independent political parties like, say, Yabloko and SPS as liberal parties, like, say, the Communist Party of the Russian Federation," Petrov said.
"Instead of continuing cooperation with them, the Kremlin now is dealing with those political parties that were established by itself, and which are totally controlled by the Kremlin."
St. Petersburg Rally
On March 3, a group of loosely connected opposition parties rallied in St. Petersburg to protest against their being pushed aside. In a rare show of defiance in a country largely loyal to the president, more than 3,000 demonstrators took to the city's main thoroughfare, Nevsky Prospekt, accompanied by a robust police force. More than 100 people were arrested and many suffered injuries in clashes with riot police.
But analyst Petrov says that whether the small, but vocal, opposition is taken into account or not, the vote is unlikely to bring any changes to the way the country is run.
"The possibility for political parties to influence decision making is negligible and, if in the majority of countries political parties are forming the government, in the case of Russia it's vice versa. The government is forming political parties to provide dominance in the State Duma [Russia's lower house of parliament] and political parties in a lot of cases look like just electoral projects. They are appearing on the eve of elections, they are very important players at the time of elections, but nobody is looking at them after elections," Petrov said.
Russia Beyond 2008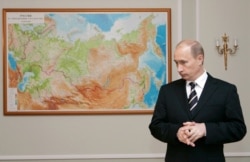 President Putin is mulling his political future (epa)

THE 2008 QUESTION: President Vladimir Putin's second term of office ends in the spring of 2008. Since the Russian Constitution bars him from seeking a third consecutive term, this event threatens to present a crisis in a country that has a history of managed power transitions. Already, Russian politics are dominated by the ominous 2008 question.
RFE/RL's Washington office hosted a briefing to discuss the prospects of Putin seeking a third term. The featured speakers were RFE/RL Communications Director Don Jensen and political scientist Peter Reddaway of George Washington University.
LISTEN
Listen to Don Jensen's presentation (about 16 minutes):
Real Audio
Windows Media
LISTEN
Listen to Peter Reddaway's presentation (about 35 minutes):
Real Audio
Windows Media
RELATED ARTICLES
Will Putin Pursue Third Term, Or Will It Pursue Him?
Could Yakunin Be 'First-Called' As Putin's Successor?
Putin Again Says He Won't Run For Third Term But Will 'Work' For Russia
Interview: Former Premier Kasyanov Warns Of Political Crisis
Former Premier Kasyanov Announces Run For President
ARCHIVE
RFE/RL's English-language
coverage of Russia
.

SUBSCRIBE
For news and analysis on Russia by e-mail,
subscribe to "RFE/RL Russia Report."