Officials from the United States, Iran, and Syria – plus a dozen other states and regional organizations – took part in the one-day conference, which was aimed at engaging Iraq's neighbors, especially Iran and Syria, in efforts to curb the violence in the country.
The meeting also offered the first opportunity for U.S., Iranian, and Syrian officials to meet officially at the ambassadorial level to discuss their differences over Iraq together.
"One other point which was positive and constructive was the interaction between the American and the British delegations with the delegations of the Islamic Republic of Iran and of Syria," Iraqi Foreign Minister Hoshyar Zebari told reporters after the meeting. "It was a constructive and useful dialogue. The discussions that took place focused essentially on the cooperation of all parties and their will to establish security and stability in Iraq."
Iraq Urges Neighbors To Do More
Today's closed-door session in Baghdad's Green Zone brought together 16 delegations to focus on Iraq as a regional crisis.
U.S. Ambassador Zalmay Khalilzad called during the conference for Iraq's neighboring states to do more to help the country become stable again.
He said Iraq's neighbors must "act decisively to halt the flow of fighters, weapons, and other lethal support to militias" in the country.
And, according to a copy of his speech delivered at the conference, the U.S. envoy demanded neighboring states "cease sectarian rhetoric and other propaganda that could incite violence."
As the conference opened, Iraqi Prime Minister Nuri al-Maliki made a similar call, urging countries not to play out their differences in Iraq.
"We ask the participants, and through them the international community to be aware of the historic and social specificity of Iraq," al-Maliki said. "[We ask] that some countries or regional or international parts do not seek to have a quota or influence in Iraq through influencing a certain sect or ethnic community or a party."
Washington charges Iran with helping to fund Iraq's Shi'ite militias and with providing them with military expertise and technology.
The United States accuses Damascus of doing too little to stop the flow of money and foreign fighters to Iraq's Sunni insurgent groups.
No U.S. Bilateral Talks With Syria, Iran
In both cases, the groups use the support not only to attack coalition forces trying to stabilize Iraq but also each other. That helps fuel sectarian fighting that many fear will turn into a full-blown civil war if not contained.
But Iranian officials told the press after today's meeting that they believed Washington could help security in Iraq by setting a timetable for withdrawing its forces.
Iraqi officials said the U.S., Iranian, and Syrian delegates did not hold any separate, bilateral talks outside of today's general meeting.
They also said the talks forcused solely on Iraqi stability and security.
Zebari said delegates agreed to prepare for an expanded, follow-up conference, whose date remains to be set.
He said venues proposed for the meeting – likely to be at the ministerial-level -- include Baghdad, Cairo, and Istanbul.
(with material from agency reports)
On The Verge Of Civil War
On The Verge Of Civil War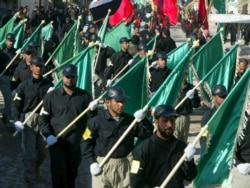 The Imam Al-Mahdi Army on parade (epa)
HAS THE CONFLICT IN IRAQ BECOME A CIVIL WAR? Many observers have concluded that the tit-for-tat sectarian violence that emerged after the February 2006 bombing of a mosque in Samarra has become a full-blown civil war.... (more)


RELATED ARTICLES
U.S. Media Starts Using 'Civil War' Label
Iraqi Prime Minister Under Fire From All Sides
U.S. Expert Discusses Prospects For Stabilization
President Says Iraq Needs Iran's Help
Saudi Arabia To Seal Off Border With Security Fence

THE COMPLETE PICTURE:
Click on the image to view RFE/RL's complete coverage of events in Iraq and that country's ongoing transition.