One of its directors, Mohammad Atrianfar, said today that "'Sharq' will appear again after the Norouz [New Year's] holiday" on March 21.
The paper had a daily circulation of about 100,000.
After a series of warnings, "Sharq" was shut down and accused of blasphemy and of insulting officials.
(Reuters, AFP)
'Attacks On The Press -- 2006'
'Attacks On The Press -- 2006'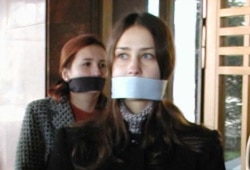 Ukrainian journalists demonstrating against censorship in December 2006 (RFE/RL)


'DOMINO EFFECT.' Two experts with the Committee to Protect Journalists told an RFE/RL-Radio Free Asia briefing on February 6 that their organization is concerned Russia's increasingly restrictive media environment is being copied by other countries in the CIS.
LISTEN
Listen to the entire briefing (about 80 minutes):

Real Audio
Windows Media
RELATED ARTICLES
New Program Finds Way Around Internet Censorship
CPJ Discusses Dangers, Obstacles Journalists Face
East: RSF Calls Iraq, Iran 'Graveyard Of Freedom'
Media Situation Worsening In Central Asia, Russia, Azerbaijan
SUBSCRIBE
For regular news and analysis on media issues throughout RFE/RL's broadcast area by e-mail,
subscribe to "RFE/RL Media Matters."