Iran Lifts Ban On Leading Reformist Daily
A woman peruses "Sharq" in Tehran before its interruption (file photo) (AFP) March 11, 2007 -- Iranian authorities have lifted a ban on the "Sharq" newspaper, the country's best-selling reformist daily until it was shut down by the country's press watchdog in September.
One of its directors, Mohammad Atrianfar, said today that "'Sharq' will appear again after the Norouz [New Year's] holiday" on March 21.
The paper had a daily circulation of about 100,000.
After a series of warnings, "Sharq" was shut down and accused of blasphemy and of insulting officials.
(Reuters, AFP)
'Attacks On The Press -- 2006'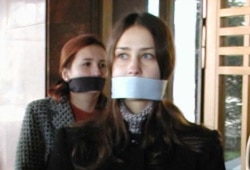 Ukrainian journalists demonstrating against censorship in December 2006 (RFE/RL)


'DOMINO EFFECT.' Two experts with the Committee to Protect Journalists told an RFE/RL-Radio Free Asia briefing on February 6 that their organization is concerned Russia's increasingly restrictive media environment is being copied by other countries in the CIS.
LISTEN
Listen to the entire briefing (about 80 minutes):

Real Audio
Windows Media
RELATED ARTICLES
New Program Finds Way Around Internet Censorship
CPJ Discusses Dangers, Obstacles Journalists Face
East: RSF Calls Iraq, Iran 'Graveyard Of Freedom'
Media Situation Worsening In Central Asia, Russia, Azerbaijan
SUBSCRIBE
For regular news and analysis on media issues throughout RFE/RL's broadcast area by e-mail,
subscribe to "RFE/RL Media Matters."