There are fears that Lake Balkhash, in southeast Kazakhstan, could face a fate similar to that of the desiccated Aral Sea because of overuse of its waters and pollution. That would be a major blow for Kazakhstan, where more than 20 percent of the population draws its drinking water from the lake.
International organizations meet in Almaty later this month to raise funds to preserve the ecological balance of the Balkhash Lake basin, one of the most fertile regions of Kazakhstan.
The European Commission delegation in Almaty says the one-day conference will be attended by representatives of the Commission itself, the Organization for Security and Cooperation in Europe (OSCE), and the United Nations' cultural and development agencies (UNESCO and UNDP).
The head of the European Union's assistance program for Kazakhstan, Anna Bramwell, told RFE/RL that the date for the conference is not yet set, but it is likely to be March 21.
Getting Started
Word of the meeting coincides with an announcement from Kazakh President Nursultan Nazarbaev that the government will prepare a program of "sustainable development" in the beautiful but fragile Balkhash Lake basin.
Bramwell said that as part of its aid to Kazakhstan, the EU is funding a project to draw up a management plan for the area. She said that a plan is envisaged that does not "freeze" development around Lake Balkhash but rather brings the demands of the population more into harmony with the natural ecology.
"We really want to ensure that best Western practice, and indeed [best practice] from other parts of the globe, is used a model for development of the basin," Bramwell said. "It is one of the most fertile and densely populated areas of Kazakhstan, which is generally very sparsely populated. So people have to be able to earn a living there; they don't want to have to stream into the cities, like Almaty, which are [already] overflowing with people and squatters."
She said there are many ways to bring prosperity to the region without overfishing, cutting down trees, and generally overusing or spoiling limited resources. There are, for instance, low-resource-use businesses, which the EU has much experience of funding elsewhere, and would also like to fund in Kazakhstan.
Chinese Involvement
As part of the process, the EU convened a conference in Almaty on March 7 that brought together senior Kazakh officials with Chinese water experts and Kyrgyz officials to discuss water flow into Lake Balkhash. Much of the water from the seven major rivers that replenish the lake originates in China and Kyrgyzstan. The most important of the rivers is the Ili.
The Kazakhs fear that as population expands quickly in western China, China will start diverting more and more water from the Ili River for its own uses. To avoid this, Kazakhstan at the conference offered a compromise with Beijing in which it would trade food for water.
"What was envisaged by the Kazakh government informally -- I don't think it has been put to [the Chinese] formally yet -- is essentially instead of doing a purely environmental accord, we would do something where we offered the Chinese a quid pro quo where we say, 'OK, if you're developing the land, that's fine; but we can grow food for you more economically than you can grow over there [in Xinjiang] where it is a desert, so that you will have less incentive to divert the waters of the Ili,'" Bramwell said.
Bramwell says the Chinese for their part denied plans to divert the Ili, and that although they were cautious and wary, they listened to what the Kazakhs had to say. She calls this an encouraging start to what will likely be a long process to secure the continued health of Lake Balkhash.
"I and others took this as a rather positive beginning; if nobody had come from China, it would have been negative," Bramwell said. "The fact [is] that people came, and we had very good contacts indeed, and we had very long discussions into the night, and a memorandum of agreement was signed between a Kazakh regional environmental institution and the water management institute in Urumchi [in China]."
An Increasingly Thirsty World
An Increasingly Thirsty World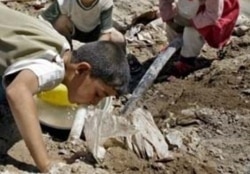 An Iraqi boy drinks from a waste-water reservoir near Baghdad (epa file photo)

A MATTER OF LIFE AND DEATH. Disputes about access to water are increasingly coming to the center of global attention, especially in China, India, and Central Asia. Writing about the 1967 Six Day War in his 2001 memoirs, Israeli Prime Minister Ariel Sharon said that "while border disputes between Syria and ourselves were of great significance, the matter of water diversion was a stark issue of life and death." (more)
RELATED ARTICLES
Tibetan Water Plans Raise Concerns
Environmentalists Say China Misusing Cross-Border Rivers
China's Economic Boom Strains Environment
Nature Waits For Cross-Border Sanctuaries To Catch On
Overused Rivers Struggle To Reach The Sea
UN Water Report Takes A Hard Look At Central Asia
Irrigation, Pollution Threaten Central Asian Lakes


THE COMPLETE STORY: Click on the icon to view a dedicated webpage bringing together all of RFE/RL's coverage of Kazakhstan, Kyrgyzstan, Tajikistan, Turkmenistan, and Uzbekistan.