Iran Condemns Hollywood Movie '300'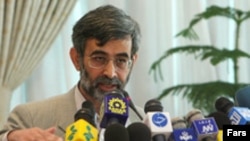 Iranian spokesman Gholam-Hussein Elham (file photo) (Fars) March 14, 2007 -- Iran has condemned the new Hollywood film "300," saying its portrayal of a 2,500-year-old battle is an aspect of "cultural and psychological warfare" against Iran.
The comments by government spokesman Gholam-Hussein Elham are the latest condemnation of the film in Tehran, where officials have called it insulting to Iranians.
A group of members of parliament have urged Foreign Minister Manuchehr Mottaki and Culture and Islamic Guidance Minister Mohammad Hussein Saffar-Harandi to ask other Muslim countries not to show the "anti-Iranian" movie.
The film tells the story of the battle of Thermopylae, in which 300 Spartan warriors led by King Leonidas heroically fought off an attack by a massive Persian army.
The film depicts the Persian army as ruthless but repeatedly outsmarted by the Greeks, who are only defeated in the end by treachery.
(IRNA, Mehr, Reuters)

A gallery of images about one of Iran's most spectacular archeological sites.
ARCHIVE
RFE/RL
coverage of Iran
. RFE/RL web special on
Iran's nuclear program
.
SUBSCRIBE
For weekly news and analysis on Iran by e-mail,
subscribe to "RFE/RL Iran Report."