Montenegro Seals EU Pre-Entry Agreement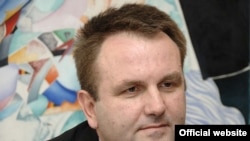 Prime Minister Zeljko Sturanovic (file photo) (official site) March 15, 2007 -- Montenegro today initialed a pre-entry agreement with the European Union, making the first concrete step toward possible membership.
The Stabilization and Association Agreement was initialed in the capital, Podgorica, by Prime Minister Zeljko Sturanovic and EU Enlargement Commissioner Olli Rehn.
At a joint press conference, Rehn said the deal will bring concrete benefits for the people of Montenegro.
"The Stabilization and Association Agreement will bring concrete results, concrete benefits to the citizens of Montenegro," Rehn said. "It means more trade with the European Union that contributes to further economic development and better job creation."
The agreement now has to be approved by all 27 EU members.
Montenegro split from a loose union with Serbia less than a year ago. It would be the third former Yugoslav republic to reach a stabilization accord with the EU, after Croatia and Macedonia.
(AP)