Despite the universal language of Kiarostami's films, they are very much rooted in Iranian life and are shot inside Iran -- though most cannot be shown there.
At the museum, many of Kiarostami's films are making their first U.S. appearance before a large audience. But film aficionados here, as across much of the rest of the world, have long followed the creative career of the 66-year old filmmaker.
In 1997, Kiarostami's "A Taste of Cherry" won the top prize at the Cannes film festival, securing his place in the pantheon of modern cinema.
Among the crowds coming to the MoMA are lots of young people. And that might seem somewhat surprising, given how strongly the filmmaker's works contrast with many Hollywood productions.
Not Hollywood Fare
If Hollywood films are often fast-paced and regularly make use of computer-generated effects, Kiarostami's are slow-moving and reflective.
Viewers at one recent evening of screenings at the museum come out speaking admiringly of qualities like "simple narrative" and "poetic eloquence" that they find in Kiarostami's tales.
Will Washburn, a 29-year old graduate student of comparative literature, says he has seen all of Kiarostami's films. That is not an easy task in the United States, where most of Kiarostami's titles are not commercially distributed and many are not subtitled in English.
"I think it's a shame that American audiences are so little acquainted with these films," he says. "I think that the universality that stems [from them] does transcend national boundaries, especially given that he's fascinated with children and deals very eloquently with lives of children versus the lives of adults. I do feel that there is universality in his films and [I] wish that Americans would be more exposed to Kiarostami's films in general."

'Humanist Message'
Washburn thinks that even though Kiarostami's films carry a powerful humanist message, their appeal to mass audiences would probably be limited in the United States.
"Take for example Kiarostami's film 'Ten,' which is very experimental in nature. It's about a woman driving a car through Tehran and she has 10 different passengers," Washburn says. "The entire film has essentially only two shots: a shot of the woman's face and a shot of her passenger's face. So, I think film that experimental in nature would have difficulty to succeed in the United States."
Anna Martok, who is originally from Romania, has been living in New York since 1982. She is among the attendees of MoMA's screening of Kiarostami's film "First Graders."
An architect by training, Martok says she is charmed and captivated by Kiarostami's films -- she has seen them all -- because they remind her in some abstract way of architectural structures. Particularly, she says, of buildings that cause people to reflect without intruding too much into their lives.
"I love the life he shows in his movies, especially because certain values are still there, ethical values as a community, between people and certain interactions between the people and people and the environment, which, I think, is missing very much here [in the United States]," she says. "For me [this] is very familiar because I come from Romania and I grew up with that. Also, he doesn't colonizes your mind: you can make up and get whatever you want, he sort of leaves you alone."
Quest For Knowledge Of Human Condition
A curator in MoMA's department of film and the main organizer of the Kiarostami retrospective, Jytte Jensen, says that the retrospective was five years in the making because the organizers wanted to do a very inclusive body of Kiarostami's work as well as show his photographs.
"The simplicity of the way the problems are sort of at first presented, and then how they develop into a more and more layered quest for certain truths, or aesthetic, or knowledge about the human condition, which is not really about only the human condition in Iran, but the human condition all over," Jensen says.
Despite the universal language if Kiarostami's films, Jensen says the filmmaker's works are very much rooted in Iran's life. In fact, a documentary on Uganda's AIDS orphans produced in 2000 is the only Kiarostami film shot outside Iran.
Jensen describes American audiences as "rapt and intrigued" by Kiarostami's films, but acknowledges that his work has gained far more recognition in Europe.
"His work is more widely seen and is simply better-known in Europe," she says. "I think that competition perhaps from the commercial cinema is a little less [in Europe] although American cinema is certainly all over Europe as well. But I just think that there maybe is a larger art-house crowd [in Europe] who knows Mr. Kiarostami's work better."
MoMA purchased entirely new prints from the original master negatives so that even older Kiarostami films from the 1970s are shown in their best technical quality.
There is a similar but smaller-scale retrospective of Kiarostami's works planned for 2008 in San Francisco.
Central Asian Cinema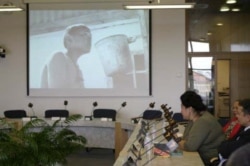 Gulnara Abikaeyeva's June 29 presentation in Prague (RFE/RL)
EAST OF THE WEST:
On June 29, RFE/RL's Prague broadcasting center hosted a presentation by
GULNARA ABIKEYEVA
, director of the Central Asian Cinematography Center in Almaty, Kazakhstan. Abikeyeva is a leading expert on Kazakh and Central Asian cinema, a chairwoman of the jury of this year's East Of The West section of the Karlovy Vary film festival. Abikaeyeva gave an overview of major trends in Central Asian cinema since the 1960s. Abikeyeva has just completed a major DVD collection of the most popular films of the five Central Asian countries and is now beginning work on a similar collection of Central Asian documentaries.
LISTEN
Listen to the complete presentation (45 minutes):

Real Audio
Windows Media
Other Articles On Central Asian Culture:
Silk Road Revival Grows As More Sites Protected
Central Asian Directors Discuss Issues Behind The Camera
Ancient European Music Meets Central Asian Masters
Central Asian Masters Revive Old Ways Of Teaching Traditional Music
ARCHIVE
To view an archive of RFE/RL's reporting on culture throughout its broadcast area, click here.


THE COMPLETE STORY: Click on the icon to view a dedicated webpage bringing together all of RFE/RL's coverage of Kazakhstan, Kyrgyzstan, Tajikistan, Turkmenistan, and Uzbekistan.