In the second day of unrest, lawyers in business suits hurled stones at police. Police officers had fired teargas to disrupt the lawyers' meeting at Lahore's High Court.
The lawyers were protesting the suspension of Chief Justice Iftikhar Muhammad Chaudhry.
Witnesses said dozens of lawyers and policemen were hurt and police beat at least two reporters. Peaceful protests were held in several other cites.
Chaudhary's sacking earlier this month has outraged lawyers and united disparate opposition parties against Musharraf, who looks set to seek another term late this year.
Chaudhary's suspension has fuelled suspicions that Musharraf feared the independent-minded judge would oppose any move by him to retain his role as army chief, which constitutionally the president should relinquish this year.
(compiled from agency reports)
Madrasahs And Tolerance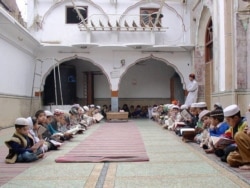 Students at a madrasah in Peshawar, Pakistan (epa file photo)

INSIDE THE MADRASAHS. The role of the traditional Islamic school, or madrasah, is being increasingly discussed. Many in the West and in the Muslim world have criticized some madrasahs for teaching intolerance and even violence...(more)
RELATED ARTICLES
Pakistan Madrasahs Reject Government Crackdown Efforts
Central Asian Madrasahs Lead Religious Teaching Revival
The Role Of Religion In Classrooms
Pakistan President Says Some Madrasahs Breed Terrorists
ARCHIVE
RFE/RL reporting on Afghanistan, Pakistan, Iraq, Iran, Tatarstan and Bashkortostan, and Central Asia.