Quetta deputy police chief Azhar Rashid told RFE/RL today that reports about the arrest of Mullah Obaidullah Akhund, the former defense minister of Afghanistan's Taliban regime, are erroneous.

Rashid confirmed that nine Afghans, all suspected militants, have been arrested in Quetta in recent days. But he said none are senior Taliban leaders or commanders with ties to Al Qaeda.

AP and Reuters today both quoted an unnamed Pakistani intelligence official as saying that Mullah Obaidullah was arrested in Quetta during the past week.
News agencies have pointed out that intelligence services are more likely than the police force to be involved in the handling of a senior Taliban suspect.

Also today, three people were killed and at least seven wounded, including a local judge, when a roadside bomb exploded in the eastern Pakistani city of Multan. The three people slain were guards for the judge, whose court often hears cases against militants and suspected terrorists.

Pakistan has seen a series of bombings in recent weeks, and is under international pressure to step up efforts against Taliban and Al-Qaeda militants operating in its border regions.

(with material from AP, Reuters, dpa)

U.S.-Afghan Relations
STRATEGIC PARTNERS:
Since leading the military campaign to oust the fundamentalist and largely unrecognized Taliban regime from power in 2001, U.S. officials have pledged a long-term interest in Afghan stability.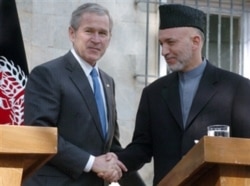 READ
'Strategic Partnership' Seen As Move Toward De Facto Rights For U.S. Bases
Analyst Discusses Increased U.S. Effort
Bush, Karzai Agree On Strategy Against Terror
Former CIA Analyst Says West Misunderstands Al-Qaeda
For regular news and analysis on Afghanistan by e-mail, subscribe to "RFE/RL Afghanistan Report."