U.S. Seeks $750 Million To Develop Pakistan Border Areas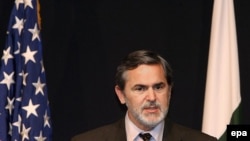 Richard Boucher speaking in Islamabad today (epa) March 15, 2007 -- The United States administration is requesting $750 million over the next five years for the development of areas in Pakistan along the border with Afghanistan.
U.S. Assistant Secretary of State for South and Central Asia Richard Boucher told journalists in Islamabad that the U.S. administration will seek the approval of the U.S. Congress for the extra aid.
Al-Qaeda and Taliban fighters are thought to have strong support in Pakistan's semi-autonomous tribal areas near the Afghan border.
(Reuters)