PRAGUE, September 8, 2006 (RFE/RL) -- Hundreds of people have been killed in Pakistan's semiautonomous tribal regions over the last two years in fighting between government troops and Islamist militants.
The mountainous tribal region of North Waziristan has become a key front in the global war against terrorism since Pakistan deployed some 80,000 troops along its border with Afghanistan. Islamabad says it has been trying to track down Al-Qaeda fighters and Taliban who use the tribal regions as a base for cross-border attacks into Afghanistan.
U.S. military officials in Afghanistan also have privately expressed concerns about the impact of the deal on their efforts to battle Taliban and Al-Qaeda.
A Real Breakthrough?
Now, Islamabad says it has reached a breakthrough cease-fire deal with militants in North Waziristan. It calls for locals to stop sheltering Al-Qaeda and other foreign fighters. The militants also have agreed not to set up a parallel government or attack Pakistani forces who continue the hunt for Al-Qaeda leader Osama bin Laden and other foreign terrorists.
In exchange, Pakistan's military will remove checkpoints and some troops from the tribal regions. It also is promising to consult local tribal leaders before carrying out attacks and to pay compensation for damage caused by antiterrorism operations there.
Pakistani President Pervez Musharraf revealed details about the agreement to Afghan President Hamid Karzai during his visit to Kabul this week. Karzai says that for Kabul, the most important development is a pledge by Pakistan's militants to stop moving across the border to carry out attacks in Afghanistan.
"His excellency, the president of Pakistan, has given us information about the treaty or agreements they have signed with terrorists or Taliban elements [in North Waziristan]," Karzai said. "The main point was this: that they should not cross into Afghanistan and not conduct armed or military action against the Afghan people."
But Karzai is treating news of the deal with skepticism amid concerns that it could make it easier for Islamist fighters to cross the long and porous border between the two countries.
Karzai Optimistic
"We are waiting to see what develops. If this deal is implemented, very good," he said. "We will be very happy. If not, naturally, we'll have to look at other methods."
The Afghan president is not alone in that skepticism. Most experts and analysts on the region are wondering whether Pakistan's tribal militants can be trusted to stop cross-border attacks into Afghanistan. They also are questioning the timing and motivation of the deal.
Ahmed Rashid is an expert on Pakistan and Afghanistan who wrote the book "Taliban" -- a history of the birth and growth of the Islamist movement. He tells RFE/RL that the cease-fire deal appears to be aimed at addressing Musharraf's domestic political troubles more than bringing an end to terrorism.
"I think this is a political deal, essentially, to save Musharraf [from] the criticism that he is getting from the army," he said. "It's a deal to save his one constituency -- his most important constituency, which is the military. The military has suffered very bad casualties [in the tribal regions]. They've lost a lot of men. There have been desertions. There is a lot of anti-Musharraf feeling because of these [military] actions in the tribal areas. So I think the first reason is to stave off these criticisms from within the military."
Like many experts on the affairs of Pakistan and Afghanistan, Rashid says it appears likely that the cease-fire deal will break down.
"There is no doubt that Pakistan's army has utterly failed to deal with the rise of 'Talibanization' in the tribal areas," Rashid said. "This is the one way out -- to have a truce. To have a cease-fire with them. It is not a resolution. There is no strategy beyond the cease-fire that we can see. What are they going to do after the cease-fire? I mean, are they going to woo all these people back into the mainstream? I don't think that's possible. And the cease-fire, or course, is very tenuous and can break down at any moment with a whole heap of scenarios that could be given to show how it could break down."
Many Skeptical
Rashid concludes that the accord is a "flimsy agreement" because it does not include any guarantees or prescribe any punishments for breaking the truce. He also says there are concerns about who has signed the deal.
"It has been reached between [the government and] a jirga (eds: a council or assembly)," he said. "But the jirga is not led by the traditional tribal leaders. It's led by the militants. So it's not a formal jirga in the traditional sense of the word. Secondly, we don't know [about foreign terrorists.] The foreigners are not there. Not represented. Al-Qaeda, the Uzbeks, the Central Asians, Chechens, etc. So we don't know to what extent they are going to keep to it."
In Washington, the White House has said there are no great concerns about the deal.
But Selig Harrison, the director of the Asia program at the Washington-based Center for International Policy, says the pact highlights a conflict of interest between Pakistan and the United States over the Taliban. Harrison says the agreement suggests it is foolish for the United States to think that Pakistan can be an ally against the Taliban.
U.S. military officials in Afghanistan also have privately expressed concerns about the impact of the deal on their efforts to battle Taliban and Al-Qaeda.
Afghan analyst Wahid Mujda says the deal is not good for Afghanistan because it creates a security vacuum on Pakistan's border with nobody to implement the terms of the accord. As a result, Mujda says the deal creates more safe havens for cross-border militants.
Pakistan's ambassador to the United States, Mahmud Ali Durrani, disagrees. Durrani says the accord will reduce the number of places where militants can seek sanctuary in North Waziristan.
Afghanistan And Pakistan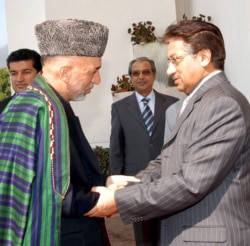 Afghan President Hamid Karzai (left) with Pakistani President Pervez Musharraf in Islamabad in October 2005 (epa)

ACROSS A DIFFICULT BORDER. The contested border between Pakistan and Afghanistan is some 2,500 kilometers long and runs through some of the most rugged, inhospitable territory on Earth. Controlling that border and preventing Taliban militants from using Pakistan as a staging ground for attacks in Afghanistan is an essential part of the U.S.-led international coalition's strategy for stabilizing Afghanistan. Officials in Kabul have been pointing their fingers at Pakistan for some time, accusing Islamabad or intelligence services of turning a blind eye to cross-border terrorism targeting the Afghan central government. Many observers remain convinced that much of the former Taliban regime's leadership -- along with leaders of Al-Qaeda -- are operating in the lawless Afghan-Pakistani border region.... (more)
RELATED ARTICLES
Pakistan-Afghanistan Conflicts Continue
Karzai, Musharraf Spar Ahead Of Bush Meeting
Musharraf Says Taliban Could Spark Pashtun 'National War'
Afghan Minister Attacks Pakistani Support For 'Terrorism'
Historical Context Of Afghan-Pakistani Relations
Afghanistan/Pakistan: 'Inseparable Twins' In Need Of Separation
ARCHIVE
RFE/RL
coverage of Afghanistan
. RFE/RL
coverage of Pakistan
.
SUBSCRIBE
For weekly news and analysis on Afghanistan by e-mail,
subscribe to "RFE/RL Afghanistan Report."