Iranians will mark Norouz, the Persian new year, on March 21 with festive celebrations. But for some, this year's Norouz preparations have been mixed with fear over an uncertain future.
Worried About Sanctions
Mehri, an office manager in Tehran, tells RFE/RL many are concerned that the UN will adopt economic sanctions against Iran over its refusal to halt uranium enrichment.
"We are now facing two choices: the continuation of the current situation or gradually moving toward a situation that will result in a military confrontation with the West. We think both situations are dangerous," one activist told RFE/RL.
"People are worried about sanctions and the very bad economic situation in Iran because everything has become expensive," she says. "I think the price of fuel will also increase and then the [prices of other things] are going to increase even more. If there will be sanctions and factories will shut down, then it would be horrible."
Western officials have said sanctions are not aimed the Iranian people, but rather they are a message to the Iranian government.
Despite such assurances, several Iranian citizens told RFE/RL they believe sanctions will not affect politicians, but will put a strain on the lives of ordinary people.
Some in Iran also say they fear a U.S. attack despite Washington's denials of any such plans.
"The chain [UN Security Council] resolutions that are being prepared against Iran -- the last one is also being [completed] -- but if the current conditions continue it will not be the last and we will see more in the coming months," prominent journalist and government critic Issa Saharkhiz tells RFE/RL. "These are putting Iranian people under pressure and the signs of this are slowly becoming visible -- people can feel it and they're worried. On the other hand, there's concern that the United States will find an excuse to launch a military operation."
A Pending Attack?
This fear is fueled by a number of Western reports and speculation -- carried by Iranian news websites -- about a possible military strike against Iran's nuclear sites.
Washington's recent sending of a second aircraft carrier to the Persian Gulf has added to the speculation.
Then there are also comments by Iranian officials who mention the possibility of U.S. or Israeli military action against the country. Previously, such officials would remain silent or would perhaps dismiss the reports about an attack as "psychological warfare."
In recent months officials have, however, stepped up their warnings about such attacks. Iran's senior nuclear negotiator, Ali Larijani, said on March 14 that Iran would respond with force to any military action aimed at disrupting the country's nuclear program. In February, Iranian Supreme Leader Ali Khamenei sent a tough message to the "enemy," saying "an invasion would be followed by a comprehensive reaction to the invaders and their interests all over the world."
'Iran Is Not Iraq'
Tehran resident Mehri says she's aware of the "rumors" but believes a military strike is unlikely.
"Most people say the U.S. would not [attack] Iran given the fact that it has not been successful in Iraq," she says. "Anyway, Iran is not Iraq."
Some observers are blaming Iranian President Mahmud Ahmadinejad and his confrontational style for the mounting tensions with the United States. Many are worried that ordinary Iranians will pay the price for Ahmadinejad's harsh rhetoric and aggressive foreign policy.
Alireza Kermani, a Tehran-based political activist, told Radio Farda that Iran is in a dangerous situation.
"The situation we are facing is a situation of 'not war' and 'not peace,'" Kermani says. "We are now facing two choices: the continuation of the current situation or gradually moving toward a situation that will result in a military confrontation with the West. We think both situations are dangerous because even if there won't be a military strike against Iran's nuclear sites, it doesn't mean that [Iran] has managed the situation well and the danger has been removed."
A warning has come from Iranians living outside the country and also activists inside Iran who have warned about the consequences of more punitive UN sanctions against Iran and a possible war.
Some 300 Iranian intellectuals and activists issued a statement last week calling on Iranian authorities to take action to reduce tensions and create trust in its nuclear program.
'We Should Know Our Limits'
Taghi Rahmani, a nationalist religious activist in Iran, is among those who have called on Iranian leaders to meet the key demand of the international community and suspend its uranium-enrichment program. He says that besides the right to have a peaceful nuclear program, Iranians have more important rights such as the right to freedom and justice.
"Our people do not want a war, we all agree -- the nationalist religious forces, seculars, and even some in the establishment -- that we should not move toward another war," Rahmani says. "As a country we should know our limits and prevent actions that lead to tensions and economic sanctions. Any further tougher sanctions and increased tensions in the region would harm the democratic aspirations of many and would create an increased security situation in the society [that could lead to a crackdown on reformers]."
Rahmani believes a military conflict would damage those who are fighting for democracy and human rights. Others, including Iranian Nobel Peace Prize winner Shirin Ebadi, have voiced similar concerns.
Ready To Unite Around The Government
Majid is a 21-year-old student in Gonabad. He tells RFE/RL that a military strike will result in Iranians rallying in support of the government.
"In the event of an attack, even those who say they don't like this establishment, they will all become united because of their land and honor," he says.
U.S. officials have said all options are on the table when it comes to dealing with Iran's sensitive nuclear work, but they say that for now they remain committed to diplomacy to resolve the issue.
Iranian officials add that they are not looking for a fight. But tension is mounting and, on this Norouz, some Iranians say they can feel it more than ever.
What The Street Thinks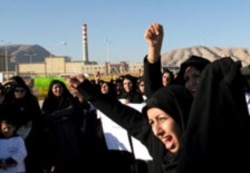 A demonstration in support of Iran's nuclear program outside the Isfahan uranium-conversion facility in Isfahan in January (epa)

IRANIANS SPEAK OUT ON THE DISPUTE: To find out more about what Iranians think about the international controversy over their country's nuclear program, RADIO FARDA asked listeners to express their views....(more)
See also:
Iran: Public Has Mixed Feelings On Nuclear Issue

THE COMPLETE PICTURE: RFE/RL's complete coverage of controversy surrounding Iran's nuclear program.
CHRONOLOGY
An annotated timeline of Iran's nuclear program.