The first demonstration was suppressed by security agents and riot police, Radio Farda reported. Protests and arrests have also been reported in some other cities. The government is showing yet again -- as it has with similar collective expressions of discontent by feminists, bus drivers, and students -- that it has little patience for organized protests.
Britain's "The Guardian" on March 16 reported the arrests of about 1,000 people on March 14, apparently just in Tehran. Judiciary Chief Ayatollah Mahmud Hashemi-Shahrudi reportedly asked Tehran's chief prosecutor, Said Mortazavi, on March 18 to release all detained teachers, the Mehr news agencyreported that day, citing legislator Akbar Alami, who is also a member of the parliament's National Security Committee.
Education Minister Farshidi said his job is to support teachers "behind the scenes," and his efforts have yielded a 50 percent growth in the ministry's budget in the year ending March 20, 2007.
Numbers Of Arrests Unknown
But a deputy leader of the Teachers' Guild Association (Kanun-i senfi-yi moalleman) identified only by the name Purvosuq told ILNA the same day that only five teachers had been released. He said "no precise figures have been announced" on the number of arrests, adding that 44 detained teachers were to be released by the end of Iran's Norouz holidays, in early April.
Teachers have been asking for their salaries to be adjusted in keeping with other public-sector workers in a country where the annual inflation rate ranges from 12 to 20 percent -- according to the varying assertions of government officials and independent observers -- and where teachers' salaries have fallen behind the rising cost of living.
A meeting on March 13 between teachers' representatives and some parliamentarians and government officials failed to reach a satisfactory conclusion to their grievances.
Teachers were hoping to meet with Education Ministry officials then, but met instead with members of the parliamentary presidium, including spokesman Mohsen Kuhkan, and with officials from the Management and Planning Organization, the Intelligence Ministry, and the Sarullah Base (Qarargah-i Sarullah), a body or military base affiliated with the Islamic Revolution Guards Corps (IRGC), the daily "Etemad" reported on March 14.
This was perhaps an indication of the state's security-oriented perspective on the issue. Kuhkan told the teachers' representatives that the meeting was not to negotiate over their demands but to inform them of measures parliament had decided in their favor.
Some Concessions
He said teachers' salaries would rise in line with inflation from the Persian year beginning on March 21. "The Guardian" on March 16 estimated teachers' salaries to be the equivalent of about $300 to $400 a month. Kuhkan said the pay raise would only be paid half in cash. Iran has in the past decades "paid" some of the wages of public sector workers in staples like rice, sugar, or tea, which are also sold in shops at considerably higher free-market prices.
Kuhkan added that fully satisfying teachers' requests would be "inflationary." Teachers reportedly asked him "why, when it is our turn, you remember inflation. Did liquidity stay the same these years when teachers' salaries were not increased?" Security officials told them to express their demands "within the legal framework," "Etemad" reported.
Teachers have asked for their salaries to rise within the framework of the Coordinated Payment System (Nezam-i hamahangi-yi pardakht), a seemingly new table of state-sector remunerations. This has been approved by parliament, but apparently has yet to be approved by the Guardians Council, a body of jurists that checks the legality of all bills, Radio Farda reported on March 14.
Radio Farda quoted Mahmud Beheshti-Langarudi, a spokesman for the Teachers' Guild Association, as telling ILNA that "there seems to be an agreement between the government and parliament" for the Coordinated Payment System not to come into force within the annual budget for the Persian year starting on March 21. This was presumably to save the state money. He said if parliament was interested in helping teachers it should have presented the bill to the Guardians Council in time for its adjustment and approval for this year.
Education Minister Under Fire Again
Teachers have also asked for the removal of Education Minister Mahmud Farshidi, who has kept his distance from the protests and defended his record as minister. He told ILNA on March 14 that he is not competent to comment on police actions over the protests, but said "the conditions of the country are such that [the protesters] are trying to provoke upheavals, and the report of the arrest of 1,000 teachers in a country that takes pride in being a religious democracy is intended to damage the system's standing."
Farshidi added that his job is to support teachers "behind the scenes," and his efforts have yielded a 50 percent growth in the ministry's budget in the year ending March 20, 2007. He said the education budget is now a little over $6 billion, and he has secured "the promise" of teachers' wages increasing fourfold. He said the teachers' demands should not be politicized, and there should be a "clarification" of these demands and of the activities of 170 groups he said present themselves as teaching unions or associations, ILNA reported.
Many Iranians living on salaries -- and sensitive to the difficult inflationary trends in Iran -- must sympathize with teachers. But it is the state's harsh response that has given these demands a broader interest.
Protests A Security Matter
Farshidi's calls not to politicize the demands and the presence of Intelligence Ministry officials at the meeting in parliament indicate that the state is concerned with the security aspect of the protests.
This may also be said of its view of other collective expressions of dissatisfaction in the past. It is difficult to say whether it is the state's impatient response that ends up "politicizing" such protests, or if the state has correctly found malignant and manipulative hands it alleges are at work in these gatherings.
An oft-repeated allegation by officials is that people arrested at gatherings -- teachers in this case but also about students in the past -- were not teachers or students.
The Islamic republic's repressive response may also indicate a fear that small and specific protests, if tolerated, may flare up into large-scale demonstrations, as student protests purportedly did in Tehran in 1999.
Families of detained teachers deplored in an open letter to President Mahmud Ahmadinejad on March 17 "the New Year gift" of "prison and arrests" that teachers had received from "the government that claims to be kind and just," advarnews.com reported.
Teachers, the letter stated, only gathered outside parliament to "seek justice." Judiciary Chief Ayatollah Shahrudi is also reported to have told the Tehran chief prosecutor, the official immediately responsible for the arrests, that Iranians have a right to participate in "legal gatherings" and "voice protests by civic means," Mehr reported legislator Akbar Alami saying on March 18.
These remarks show that the Iranian state is correct in relating such protests to issues beyond the specifics: they concern the nature of certain social rights that Iranians hope to enjoy and who it is that determines the limits on those rights.
The Iranian Economy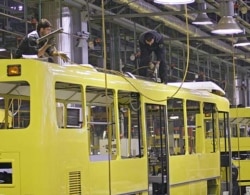 Buses being produced at a factory in Tehran (Fars)

IN NEED OF DIVERSIFICATION. Populist Iranian President Mahmud Ahmadinejad is having trouble fulfilling his promises to put the country's petrodollars on the plates of average citizens. Inflation and unemployment remain high and the economy is dominated by the energy sector.
RELATED ARTICLES
Foes Challenge President's Economic Rhetoric
Power Cuts In An Energy-Rich Land Spark Protests
Government Balks At Gasoline Rationing
Weak Economy Challenges Populist President
ARCHIVE
RFE/RL's
coverage of Iran
.
SUBSCRIBE
For weekly news and analysis on Iran by e-mail,
subscribe to "RFE/RL Iran Report."