More Than 100 Dead In Siberian Mine Disaster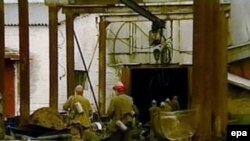 Rescue efforts in Kemerovo Oblast on March 19 (epa) March 20, 2007 -- The death toll from an explosion at a coal mine in Siberia has risen to 106 in Russia's deadliest mine disaster in more than a decade.
A methane-gas explosion ripped through the Ulyanovskaya coal mine in the Siberian town of Novokuznetsk on March 19.
Officials say at least 106 miners are dead and four are still missing. Emergency workers have rescued 93 people so far.
Difficult Rescue Operation
Among the dead were members of the mine's management, a British man, and his interpreter. The Briton was reportedly in the mine examining a British-made hazard-monitoring system.
Speaking in Novokuznetsk today, Russian Emergency Situations Minister Sergei Shoigu said that the rescue operation was proving to be difficult.
"We have approached the most difficult place [of the mine], the most affected one, and we are moving forward very carefully. There are problems, as well. Unfortunately, immediately after the explosion, the mine's internal communication system was destroyed. This is a problem that makes our work more difficult," Shoigu said.
The accident was one of the worst mining disasters to hit Russia since the 1991 collapse of the Soviet Union. In December 1997, a methane gas explosion killed 67 miners in the same region.
Nursing-Home Fire
Meanwhile, in southern Russia, a nighttime fire in a nursing home has killed at least 62 people and injured 33.
The disaster struck in the village of Kamyshevatakaya on the Azov Sea coast. It took firefighters nearly an hour to get to the blaze in the remote village. The cause of the fire is being investigated.
The nursing-home fire is the latest in a series of deadly blazes at schools, hospitals, and other state-run facilities.
Russian President Vladimir Putin today ordered a special Kremlin inquiry into the mine explosion and fire, as well as a plane crash that occurred on March 17 and killed six people.
"Of course, investigations must be conducted at the highest level to find out the causes of these tragedies and make the necessary conclusions," Putin said.
Prime Minister Mikhail Fradkov will lead the high-level probe into the incidents.
A coal mine in Russia's Kemerovo Oblast (TASS file photo)


DIGGING DANGEROUSLY: Below RFE/RL presents a chronology of the major Russian mine incidents of the last decade.
March 19, 2007: A methane explosion kills 97 people as it ripped through the Ulyanovskaya coal mine in Siberia's Kemerovo Oblast.
March 1, 2007: One coal miner is killed and nine are injured after part of a shaft collapses in Kemerovo Oblast.
February 25, 2007: One miner is killed after part of a shaft collapses at a coal mine in Kemerovo Oblast.
September 7, 2006: Twenty-five miners die in a fire at a remote gold mine in eastern Siberia near the border with China.
September 8, 2005: A methane blast at Anzhero-Sudzhensk in Kemerovo Oblast kills three.
February 9, 2005: An explosion in the Yesaulskaya mine in Kemerovo kills 21.
October 28, 2004: A methane blast at the Listvyazhnaya mine in Siberia kills at least 13.
April 10, 2004: A gas explosion at the Taizhina mine in Siberia's Kemerovo region kills 45.
October 29, 2003: Five miners are killed in a methane blast at a mine in the Far Eastern town of Partizansk.
January 13, 2002: At least five people die in a methane-gas blast at the Vorkutinskaya mine in the northern Komi Republic.
January 1998: A powerful explosion at the Tsentralnaya mine in the Arctic town of Vorkuta kills 27 miners.
December 1997: A methane-gas explosion rips through the Zyryanovskaya mine in the city of Novokuznetsk in western Siberia, killing more than 30 miners.
(Reuters)
ARCHIVE
RFE/RL's coverage of
Russia
.