Iraqi Brigadier General Abd al-Karim Khalaf was quoted as saying the fighting broke out near Al-Fallujah, about 70 kilometers west of Baghdad.
Meanwhile, in Baghdad today four mortar rounds landed in a residential district, killing at least seven people.
Police also announced that they had found some 30 bodies that had been shot around the city on March 19.
Also today, the U.S. military said that two of its troops were killed in a roadside-bomb attack in the Iraqi capital. The military did not say when the attack occurred.
In other developments, the U.S. military said Iraqi insurgents used children in a recent suicide attack.
General Michael Barbero said adults in a vehicle with two children in the back seat were allowed through a Baghdad checkpoint. He said the adults then abandoned the vehicle and detonated it with the children still inside.
(compiled from agency reports)
On The Verge Of Civil War
On The Verge Of Civil War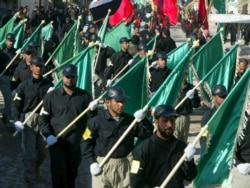 The Imam Al-Mahdi Army on parade (epa)
HAS THE CONFLICT IN IRAQ BECOME A CIVIL WAR? Many observers have concluded that the tit-for-tat sectarian violence that emerged after the February 2006 bombing of a mosque in Samarra has become a full-blown civil war.... (more)


RELATED ARTICLES
U.S. Media Starts Using 'Civil War' Label
Iraqi Prime Minister Under Fire From All Sides
U.S. Expert Discusses Prospects For Stabilization
President Says Iraq Needs Iran's Help
Saudi Arabia To Seal Off Border With Security Fence

THE COMPLETE PICTURE:
Click on the image to view RFE/RL's complete coverage of events in Iraq and that country's ongoing transition.