If you can't name any, don't feel bad. The list was put together by the ancient Greeks more than 2,000 years ago, and only one of the original seven wonders -- the Great Pyramid of Giza in Egypt -- still exists today. The rest were lost to earthquakes or fires centuries ago.
And that's precisely why Swiss explorer and filmmaker Bernard Weber decided the old list needs updating. What good is a list of wonders that no one can see? And furthermore, he thought, why not be democratic and ask ordinary people what they consider the seven most wonderful man-made monuments in the world?
07/07/07
So with his own money, Weber launched a website seven years ago where anyone could cast their vote for the "New Seven Wonders Of The World." Now that website has led to a nonprofit foundation, and there's a film and book deal in the works.
The point is not to please the world's culture ministers, but rather to reflect the opinions of the global online gathering that the project has attracted.
This summer, on July 7 -- that's 07/07/07 -- the winning seven monuments will announced at a massive celebration to be broadcast around the world from Lisbon, Portugal.
By that date, millions of ordinary people from dozens of countries will have cast their votes at the website new7wonders. Already 4 million people have cast 28 million votes, according to the foundation.
The New7Wonders Foundation is a nonprofit group, but the broadcast rights to this summer's Lisbon ceremony, and the resulting film and book deal, will all bring in revenue. The group says 50 percent of the profits will go toward the restoration and preservation of existing monuments.
Indeed, some of the "new wonder" finalists, like China's Great Wall and the ancient Mayan site at Chichen Itza in Mexico, are crumbling. The Taj Mahal in India has endured so many decades of air pollution that its famous milky white marble is turning gray.
The group says it is already using its profits to help recreate one monument that no longer stands -- Afghanistan's Buddahs of Bamiyan, which were destroyed by the Taliban in 2001.
Widening People's Horizons
Tia Viering, the project's spokeswoman, said Internet votes for the new wonders list have been received from people in over 100 countries -- with the most votes coming from China, Greece, India, Brazil, the United States, Peru, Mexico, Australia, Germany, Canada, and Britain.
Viering says even people who don't have access to the Internet, can vote.
"We have telephone voting and we have a couple of international lines," she says. "And we have, in many countries that have candidates, SMS lines that are open. What we see is that in many, many parts of the world that are not known for being traditionally wired, there's tremendous energy and people are going to places to vote. People are going to Internet cafes; people are going to their friend's offices; people want to participate. And I would even say that the energy and the will to participate is actually more intense in places where it may not be as understood that this is something that you can do every day."
Understandably, someone from Italy is likely to vote for Rome's Colisseum, but for your choice to be counted, you must vote for a total of seven wonders. Viering says that forces people "to look beyond their own borders."
"I'm sure that many people are voting for things in their own countries, and that's something we encourage," Viering says. "We encourage people to be proud of their cultural heritage, to look at their own culture, and their own history in a new light. But we also -- because you have to vote for seven candidates online, you cannot vote for one, and they have to be seven different candidates -- we see that people let themselves be inspired by six others. We force people to sort of look beyond their own borders, to be inspired by six others, at least six others -- of these incredible monuments, and usually the responses are phenomenally positive."
Egypt Balks
Not everyone is pleased with the initiative. Egyptian Culture Minister Farouk Hosni thinks the idea of creating a new list of seven wonders is "absurd." And the chief of Egypt's Supreme Council of Antiquities, Zahi Hawass, has asked for the Giza pyramids to be removed from the voting, because, as he told the Middle East News Agency, they "don't need a vote to be among the world's wonders."
Viering is unfazed by the fuss.
"We welcome controversy, we actually welcome discussion," Viering says. "Unfortunately Mr. Hawass is not interested in discussion. We've never been able to speak with him. Egypt has been consistently among the top 25 countries voting, so obviously most Egyptians do not agree with Mr. Hawass."
Viering says the point is not to please the world's culture ministers, but rather to reflect the opinions of the global online gathering that the project has attracted.
"This is the first-ever global vote," Viering explains. "This is the first-ever time that people in many, many countries in many areas of the world are voting on anything. And this is the first time that kids are able to vote and their vote is counted with equal value as that of adults. This is not experts -- we believe that culture is by definition a bottom-up kind of thing; it's not a top-down -- it's not professors, it's not historians, it's not archeologists. It's the people."
On July 7, the people will find out what they have chosen.
Saving Afghanistan's Heritage
Saving Afghanistan's Heritage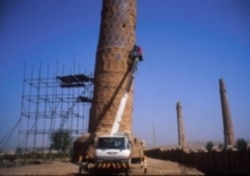 A UNESCO team working to stabilize Herat minarets in 2003 (UNESCO)

THE MINARETS OF HERAT: In Afghanistan's leafy western city of Herat, a two-lane road slices between the city's five remaining 15th-century minarets. Every truck, car, bus, motorcycle, and horse-drawn carriage that passes by sends vibrations coursing through the delicate structures.
In particular, the Fifth Minaret -- all 55 meters of it -- seems ready to collapse into a dusty heap of bricks and colored tiles at any moment. A large crack near its base makes drivers speed up just a little as they pass by....(more)



Click on the image to view an audio slideshow of this story by RFE/RL correspondent Grant Podelco.



RELATED ARTICLES
Afghanistan Protects Storied Bactrian Treasure
Archeologist Hunts For Third Bamiyan Buddha
Musicians Struggling To Revive Classical Heritage After Taliban
ARCHIVE
To view RFE/RL's complete coverage of Afghanistan,
click here
.

SUBSCRIBE
For weekly news and analysis on Afghanistan by e-mail, subscribe to "RFE/RL Afghanistan Report."