Iftikhar Chaudhry's March 9 dismissal brought sizable crowds out into the streets of major Pakistani cities including Islamabad, Lahore, and Karachi.
Some 3,000 lawyers boycotted court proceedings in Peshawar on March 22 and blocked a road. And eight judges and a deputy attorney general have resigned to protest Chaudhry's suspension, which they say is unconstitutional.
According to Asma Jahangir, a founding member of the Human Rights Commission of Pakistan and UN special rapporteur of the Commission on Human Rights, the Pakistani people are outraged over what they regard as a trampling of their civil rights.
"The process that was adopted to remove [Chaudhry] was not only illegal but politically it was very repressive as well, so people have been shaken up," she says. "They feel that if the chief justice of Pakistan can be dragged through the streets in this manner -- and humiliated and dismissed in that unceremonious way -- [then] nobody is safe at the hands of the repression of this government."
Judicial Manipulation
A Pakistani government statement on March 9 cited what it described as "numerous complaints and serious allegations of misconduct, misuse of authority, and actions prejudicial to the dignity of office of the chief justice of Pakistan."
Some critics accuse President Musharraf of suspending Chaudhry because the government disagreed with his verdicts.
Chaudhry denies the charges against him, including that he unfairly got promotions for his son and used cars and airplanes for his personal use. He is expected to receive a hearing on the charges against him on April 3.
The government came under further pressure after Musharraf felt compelled to publicly apologize over authorities' ransacking of a private television channel, GEO, on March 16.
Jahangir is skeptical about the shifting stance of the government regarding Chaudhry's suspension.
"The Musharraf government is trying to make some corrections and amends, but it has really exposed itself to [having] no credibility at all because the president came...on television and tried to give a story which didn't really jell together, and unfortunately people feel that he in fact lied to the nation about the facts," she says. "The lawyers feel that the judiciary, which is already feeble, has now been completely decimated."
Standing Up To Musharraf
Critics of Musharraf's government say that Chaudhry was opposed to Musharraf holding two posts, as president and military chief of the country.
But Jahangir says that not even Chaudhry, as chief justice, was independent enough to stand up to Musharraf. He was, after all, sworn into office under the Provisional Constitutional Order (PCO) that Musharraf imposed in 1999.
Jahangir says that, since becoming chief justice, Chaudhry had taken up legal cases that annoyed the government.
"He had taken up certain cases in which he had [summoned] law enforcement and intelligence agencies," she adds. "And that is, I think, one of the main reasons why the [president] felt that he [Chaudhry] was going beyond his [boundaries], so to speak, under a military dictatorship."
The Pakistani Supreme Court's website says that the PCO that came into effect in October 1999 states that the judiciary should continue to function as before -- so long as no court, under any circumstance, issues orders against the chief executive or his authority.
Growing Opposition
Swaths of the legal community in Pakistan continue to back Chaudhry through protests, hunger strikes, and resignations. The daily "News International" reported on March 20 that Deputy Attorney General Nasir Said Shaikh resigned over what he called a "judicial crisis."
Political parties appear to be using the controversy to express their opposition to Musharraf's government. Many political party leaders and other activists have been arrested during the protests.
Some accuse political parties like the Muttahida Majlis-i-Amal, an alliance of religious hard-liners, of exploiting events to gain support with little regard for the integrity of the judiciary.
Jahangir says the controversy surrounding Chaudhry has become something bigger than a judicial issue -- and has many worried about the continuation of civilian institutions in Pakistan.
"It's a much broader issue now, as was said by the members and leaders of the [Pakistan Bar Council] today, who very clearly said this is no longer an issue of [who] is in the Supreme Judicial Council but...a wider issue of whether even civil institutions can survive under the weight of militarization in Pakistan," she says.
Jahangir warns that the issue could affect the general elections that are scheduled for November.
Meanwhile, Rana Bhagwandas was expected to be sworn in as the acting chief justice on March 24. He will become only the second non-Muslim in the country's history to serve as chief justice.
Jahangir sees government maneuvering behind the postponement of the court hearing over Chaudhry's sacking, which was originally scheduled for March 21.
The government is "going to prolong these hearings so that the movements that are building around it can die down, and there is just so many months and weeks that people can come out on the streets so I believe that government will use [the postponement] strategy and its not a new strategy," Jahangir says. "But one thing [that] is very clear is that people feel that they have, to some extent, expressed their absolute outrage at this government."
It is day 15 of the antigovernment demonstrations and the lawyers continue to protest around the country, with the demonstrations sometimes turning violent.
Critics suggest that Musharraf might have taken on more than he can handle: the U.S.-led war on terror, the insurgency in the North-Western Frontier Province and Baluchistan, and now this judicial predicament.
Afghanistan And Pakistan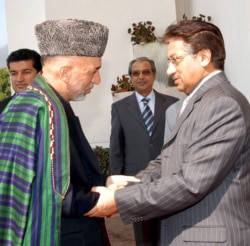 Afghan President Hamid Karzai (left) with Pakistani President Pervez Musharraf in Islamabad in October 2005 (epa)

ACROSS A DIFFICULT BORDER. The contested border between Pakistan and Afghanistan is some 2,500 kilometers long and runs through some of the most rugged, inhospitable territory on Earth. Controlling that border and preventing Taliban militants from using Pakistan as a staging ground for attacks in Afghanistan is an essential part of the U.S.-led international coalition's strategy for stabilizing Afghanistan. Officials in Kabul have been pointing their fingers at Pakistan for some time, accusing Islamabad or intelligence services of turning a blind eye to cross-border terrorism targeting the Afghan central government. Many observers remain convinced that much of the former Taliban regime's leadership -- along with leaders of Al-Qaeda -- are operating in the lawless Afghan-Pakistani border region.... (more)
RELATED ARTICLES
Pakistan-Afghanistan Conflicts Continue
Karzai, Musharraf Spar Ahead Of Bush Meeting
Musharraf Says Taliban Could Spark Pashtun 'National War'
Afghan Minister Attacks Pakistani Support For 'Terrorism'
Historical Context Of Afghan-Pakistani Relations
Afghanistan/Pakistan: 'Inseparable Twins' In Need Of Separation
ARCHIVE
RFE/RL
coverage of Afghanistan
. RFE/RL
coverage of Pakistan
.
SUBSCRIBE
For weekly news and analysis on Afghanistan by e-mail,
subscribe to "RFE/RL Afghanistan Report."