PRAGUE, November 2, 2006 (RFE/RL) -- Maulana Fazlur Rehman, a leader of Pakistan's Islamic coalition and an organizer of protests against the madrasah attack, blames Pakistan's army for the tensions in the tribal regions.
Rehman says residents of the tribal areas are angry at the government in Islamabad because of the October 30 air strikes on the madrasah. He says that animosity is driving them to take part in daily street protests.
Many people in Pakistan think the attack was the result of pressure from the United States and NATO.
Scattered Protests
"The government should understand that it cannot successfully lead the country with such hatred from its masses [caused by the bombing of the madrasah]," he said. "In the Tang district -- which is a rather small and backward area -- people came out on the streets on a few hours notice. And there was a very large protest. So you can imagine how the people in the bigger centers must have protested with such sadness and anger."
Rehman says he expects street protests to grow in the days ahead with other political parties joining in. He also challenges the claims by Pakistan's military that it confirmed that the madrasah had links to Taliban militants and Al-Qaeda fighters before launching Monday's attack.
"Can the government prove that prior to the bombing, efforts were made to talk to the [alleged militants]?" he asked. "Should bombing be the first and foremost resort? The government's claim is not trustworthy [about how the army] conducted the bombing. Is this how you treat your own people -- by bombing them? More than 80 people were martyred and not one of them was a foreigner. They were all our own. [The government] is just lying and misleading the people."
But in Islamabad, Pakistani President Pervez Musharraf says it is the radical Islamist militants and their supporters who are lying about the madrasah.
President Defends Attack
"Anyone who saying that these people were innocent Taliban (students) is telling lies," the president said. "They were militants doing military training. We were watching them [for] six or seven days. We knew exactly who they are [and] what they are doing. They were all militants using weapons [and] doing military training within the [madrasah] compound."
Musharraf also has warned that Pakistan will continue to use military options -- "side-by-side with political, administrative, and reconstruction activity" -- "wherever there is militancy" in the country.
Some political analysts and observers say further attacks like the one on the madrasah could put Musharraf's government in a difficult predicament. But Pakistan's chief army spokesman, Major General Shaukat Sultan, dismisses those concerns.
"Only one religious party out of the entire religious coalition is trying to use this opportunity for political gain," he said. "The [religious political coalition] may be able to muster some street power somewhere. There may be some odd violent activity. And that is it. Nothing more than this."
Sultan also says the madrasah attack does not endanger attempts by Pakistan's army to negotiate new peace deals with tribal leaders in the border areas.
Controversial Peace Pacts
He says a controversial peace deal reached in September with tribal leaders in nearby North Waziristan will remain in force. But he notes that such peace accords involve moderate tribal leaders -- not the most militant elements.
In the Bajaur tribal area, where the October 30 attack occurred, tribal leaders have broken off negotiations on a peace deal that they had been expected to sign that day.
Meanwhile, there are persistent questions from within Pakistan and abroad about the Taliban's continuing presence in the tribal areas. Known officially as "tribal agencies," the region is not under the jurisdiction of Islamabad and has had autonomous status since the country was founded in 1947.
But Pakistan's recent military operations in the tribal regions have changed the dynamic there, making unrest a growing concern for the government as it battles militants.
Some analysts say that tribal militants are simply defending their sovereignty. But others say tribal regions have become a breeding ground for radical Islamists -- including Afghans, Arabs, Chechens, and Uzbeks.
Relationship With Washington
Ahmed Rashid, a Pakistani journalist and author of the book "Taliban," insists that the Taliban's top leadership is using Pakistan as a safe haven to plan attacks in Afghanistan. Rashid tells RFE/RL that U.S. authorities need to address that issue.
"The Americans have a public position which is very supportive of Musharraf," he said. "And there is no doubt that Pakistan has done a great deal in dispatching the Arab part of Al-Qaeda. I don't think the Americans want to publicly get tough with Musharraf on the Taliban issue at the moment simply because I think American foreign policy at the moment is overwhelmed with the crisis in Iraq, the crisis in North Korea, [and] with Iran."
Hasan Askari Rizvi is an independent political and defense analyst based in Lahore, Pakistan. He tells RFE/RL that Islamic political parties are fueling anti-American sentiments in Pakistan by accusing the United States of a direct role in the madrasah attack.
The U.S. has denied any direct role in the attacks. But Rizvi says many people in Pakistan think the attack was the result of pressure from the United States and NATO.
"The general assumption here in the media is that, perhaps, it is the result of the pressure that comes on Pakistan from the United States and the NATO forces in Afghanistan," he said. "That kind of feeling exists in Pakistan at the moment. Pakistani military authorities and the American military authorities in Afghanistan are coordinating. [So I think that] maybe the information came from the Americans and then the Pakistanis acted to satisfy the pressure which was coming from the United States."
Meanwhile, New York-based Human Rights Watch (HRW) is calling for an independent investigation into the air strikes. Ali Dayan Hasan, a South Asia researcher for HRW, says the onus is on the government in Islamabad to provide a credible account of the legitimacy of attacks that result in the deaths of so many people.
(RFE/RL correspondent Ron Synovitz contributed to this report.)
Afghanistan And Pakistan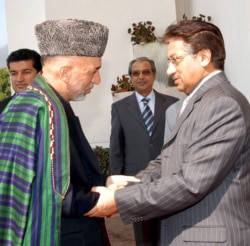 Afghan President Hamid Karzai (left) with Pakistani President Pervez Musharraf in Islamabad in October 2005 (epa)

ACROSS A DIFFICULT BORDER. The contested border between Pakistan and Afghanistan is some 2,500 kilometers long and runs through some of the most rugged, inhospitable territory on Earth. Controlling that border and preventing Taliban militants from using Pakistan as a staging ground for attacks in Afghanistan is an essential part of the U.S.-led international coalition's strategy for stabilizing Afghanistan. Officials in Kabul have been pointing their fingers at Pakistan for some time, accusing Islamabad or intelligence services of turning a blind eye to cross-border terrorism targeting the Afghan central government. Many observers remain convinced that much of the former Taliban regime's leadership -- along with leaders of Al-Qaeda -- are operating in the lawless Afghan-Pakistani border region.... (more)
RELATED ARTICLES
Pakistan-Afghanistan Conflicts Continue
Karzai, Musharraf Spar Ahead Of Bush Meeting
Musharraf Says Taliban Could Spark Pashtun 'National War'
Afghan Minister Attacks Pakistani Support For 'Terrorism'
Historical Context Of Afghan-Pakistani Relations
Afghanistan/Pakistan: 'Inseparable Twins' In Need Of Separation
ARCHIVE
RFE/RL
coverage of Afghanistan
. RFE/RL
coverage of Pakistan
.
SUBSCRIBE
For weekly news and analysis on Afghanistan by e-mail,
subscribe to "RFE/RL Afghanistan Report."