EU Leaders Adopt 50th Anniversary Declaration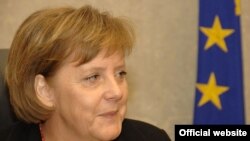 German Chancellor Anglea Merkel (file photo) (official site) March 25, 2007 - - European Union leaders today adopted a 50th anniversary declaration setting out the achievements of the 27-nation bloc and the challenges facing it.
The "Berlin Declaration" marks the signing on March 25, 1957, of the founding Treaty of Rome.
The new document sets 2009 as the deadline for preparing a new constitutional treaty, to replace the constitution which failed to win approval by voters two years ago.
In a speech before the adoption, German Chancellor Angela Merkel said that Europe could take none of its cherished ideals -- peace and freedom, democracy, and the rule of law -- for granted.
Germany currently holds the post of the rotating EU Presidency.
(AFP, Reuters)