The 21 contracts include an agreement by state-controlled Russian oil company Rosneft to supply jet fuel to China as well as long-term export contracts for Russian steel products.
Russian President Vladimir Putin and his Chinese counterpart Hu Jintao oversaw the deals today on the second day of the Chinese president's visit to Russia.
Earlier today, Putin and Hu opened a large Chinese trade fair in Moscow.
Nearly 200 Chinese companies are showcasing their products at the fair, said to be China's biggest ever in a foreign country.
"The products exhibited here represent [China's] most significant achievements and provide a truly unique opportunity to get acquainted with the successes of China's policy of reform and openness," Putin said at the trade fair.
"We find particularly interesting those sections dedicated to innovative and information technologies, aviation, space industry, nuclear energy, as well as China's achievements in electronics, machine-building and other areas," Putin added.
Hu's visit is aimed at cementing growing economic and political ties. After talks on March 26, the two presidents pledged to further develop energy cooperation and also reiterated their aligned positions on Iran and North Korea's nuclear programs.
Later today, Hu, who is on a three-day visit, travels to Russia's oil rich republic of Tatarstan.
(Interfax, AFP)

Russia And Global Energy Security
Russia And Global Energy Security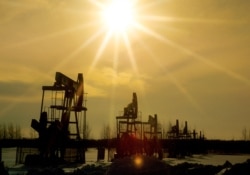 An oil field in Russia's Republic of Bashkortostan (TASS file photo)


ENERGY SECURITY is increasingly moving to the top of the EU's agenda in its dealings the outside world. A recent report identifies the European Union's main energy objectives as not just securing gas and oil deliveries from Russia, but also ensuring that it has reliable alternative sources, including in Central Asia. Nonetheless, EU officials say relations with Russia take center-stage in their thinking....(more)
RELATED ARTICLES
EU Maintains Codependent Energy Relationship With Russia
Turkmenistan: The Achilles' Heel Of European Energy Security
U.S. Official Urges Reforms In Energy-Producing Countries
ARCHIVE
A
complete archive
of RFE/RL's coverage of energy issues in the Caspian Sea region and Russia.