Former Putin Colleague Becomes Election Chief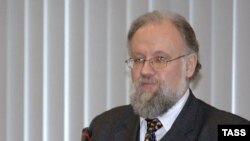 Churov has vowed to be impartial during upcoming elections (ITAR-TASS) March 27, 2007 (RFE/RL) -- Russia's Central Election Commission has chosen Vladimir Churov, a former colleague of Russian President Vladimir Putin, as its new chairman ahead of key elections.
Churov was elected today in a vote by the 15 members of the election commission. Thirteen members voted for him, two against.

Churov's nomination comes ahead of key parliamentary elections in December 2007 and a presidential election in 2008.

'Work To Do'
Speaking today at a commission meeting in Moscow, Churov pledged the body will remain impartial throughout the polls.
"We will not be equally distant from political parties, but equally close to all parties as participants in democratic elections." -- Churov
"We will not be equally distant from political parties, but equally close to all parties as participants in democratic elections and as an integral part in the development of the state," Churov said. "I thank once again all of my colleagues for their trust. We are going to have a lot of work to do."

His appointment follows Putin's decision this month not to renominate the commission's former chairman, Aleksandr Veshnyakov. Churov was the only candidate put forward for the vacant job.

Vladislav Surkov, deputy head of the presidential administration, today strongly praised Veshnyakov's performance as commission chief.

Why, then, did the Kremlin chose to oust him?

A Larger Campaign?
Churov's nomination is widely seen as a part of a campaign to fill the commission with malleable, loyal officials ahead of the elections.

"Obviously, the issue was to find a person who is not capable of becoming an independent partner of any of the groups in power," said Boris Kagarlitsky, director of the Institute for Globalization Studies. "Veshnyakov, who occupied this post for a very long time and built up contacts and access to all the key figures, could have become too unpredictable and dangerous. Who was chosen to replace is not that important."

The 54-year-old Churov, a former physicist, worked with Putin in the 1990s in the St. Petersburg city administration.

He was elected to parliament in 2003 as a member of the nationalist Liberal Democratic Party of Russia (LDPR), but he is no longer a member.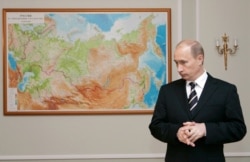 President Putin is mulling his political future (epa)

THE 2008 QUESTION: President Vladimir Putin's second term of office ends in the spring of 2008. Since the Russian Constitution bars him from seeking a third consecutive term, this event threatens to present a crisis in a country that has a history of managed power transitions. Already, Russian politics are dominated by the ominous 2008 question.
RFE/RL's Washington office hosted a briefing to discuss the prospects of Putin seeking a third term. The featured speakers were RFE/RL Communications Director Don Jensen and political scientist Peter Reddaway of George Washington University.
LISTEN
Listen to Don Jensen's presentation (about 16 minutes):
Real Audio
Windows Media
LISTEN
Listen to Peter Reddaway's presentation (about 35 minutes):
Real Audio
Windows Media
RELATED ARTICLES
Will Putin Pursue Third Term, Or Will It Pursue Him?
Could Yakunin Be 'First-Called' As Putin's Successor?
Putin Again Says He Won't Run For Third Term But Will 'Work' For Russia
Interview: Former Premier Kasyanov Warns Of Political Crisis
Former Premier Kasyanov Announces Run For President
ARCHIVE
RFE/RL's English-language
coverage of Russia
.

SUBSCRIBE
For news and analysis on Russia by e-mail,
subscribe to "RFE/RL Russia Report."