Putin did not include Veshnyakov's name in a list of five nominees to the new election commission which takes office March 26.
The decision comes just two days after local elections in 14 Russian regions were dominated by the pro-Kremlin Unified Russia party.
No reason has been given for the decision, other than the conclusion of the commission's current four-year term. Russian law does not limit the number of times the CEC chairperson can hold the post.
Surprise Move?
Veshnyakov led controversial CEC reforms of election legislation after federal elections in 2003-04. These included the move to a proportional system of election in the lower chamber of the Russian parliament, the State Duma.
News agencies cite a Duma official as praising Veshnyakov's work and saying he will be offered a new senior post elsewhere.
A past CEC chairman, Nikolai Ryabov, was made ambassador to the Czech Republic and then Azerbaijan, following the reelection of Boris Yeltsin in 1996.
Veshnyakov in the past had said "it wouldn't be a tragedy" to give up his post as chairman.
Still, his removal comes as a surprise to many who saw him as a relatively cooperative partner to the Kremlin.
Aleksei Makarkin of the Center for Political Technologies tells RFE/RL's Russian Service that the hot election season ahead may have the Kremlin looking for a more malleable figure to head the commission.
"In my opinion, it is tied to the fact that the Kremlin decided before the presidential election that it needed not so much a partner in the Central Election Commission that would count the votes and monitor the election -- and Veshnyakov was essentially the Kremlin's partner, a person with his own ambitions, with a certain degree of autonomy, with certain conditions that he put forward -- but a person who would be more dependent and less likely to become an ambitious figure," he said.
Two Key Votes
The new commission will oversee elections to the State Duma in December and the 2008 presidential election.
The election commission consists of 15 members. The president, State Duma, and Federation Council each appoint five members.
The members then elect a chairman, deputy chairman, and secretary. It is not yet clear who the next elections chief will be.
Of Putin's five appointees, only one is a holdover from the current commission -- Vasily Volkov.
Volkov, who was appointed in 1999, has been responsible for supervising electoral rights, including the rights of military personnel and citizens abroad to vote.
Democracy In Russia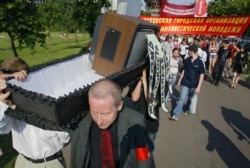 Demonstrators in Moscow carry a coffin with a television in it to protest government control over broadcasting (TASS file photo)


DO RUSSIANS LIKE THEIR GOVERNMENT? During a briefing at RFE/RL's Washington office on November 15, Richard Rose, director of the Center for the Study of Public Policy at the University of Aberdeen, discussed the results of 14 surveys he has conducted since 1992 on Russian public opinion about democracy and the country's development. He discussed the implications of these opinions for relations with the West and for Russia's 2008 presidential election.
LISTEN
Listen to the complete discussion (about 42 minutes):

Real Audio
Windows Media
RELATED ARTICLES
U.S. Election Expected To Chill Relations With Moscow
Are Mayors Next 'Power Vertical' Victim?
Monarchist Nostalgia Remains Powerful
Russian Election Commission Rejects Third-Term Appeal
Romanov Burial May Be Part Of Kremlin Image Campaign
ARCHIVE
All of RFE/RL's English-language coverage of
Russia
.


UPDATED CONSTANTLY: Visit RFE/RL's Russian-language website, featuring news, analysis, features, streaming audio, and more, in Russian, from RFE/RL's Russian Service.