Russia: Election Commission Rejects Third-Term Appeal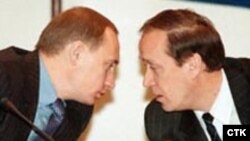 Putin (left) with election commission head Veshnyakov (CTK) MOSCOW, September 27, 2006 (RFE/RL) -- Russia's Central Election Commission today dismissed an appeal to conduct a referendum on lifting the current two-term limit for Russian presidents.
Changing the constitution would allow President Vladimir Putin to stay in power after his second term ends in 2008.
The question asked: Do you agree with the fact that a person cannot occupy the post of president of the Russian Federation for more than two consecutive terms?
It was proposed for a nationwide referendum by Accord and Stability, a civil group in the southern Russian province of North Ossetia.
Two-Term Limit
The Russian Constitution bars presidents from serving more than two consecutive terms. But some supporters of Putin are calling for an amendment to the constitution that would allow him to stay in office after his second term ends in 2008.
Russia's Central Election Commission, however, ruled against the appeal -- the first of its kind to be filed with the commission.
Aleksander Veshnyakov, the election commission's chairman, told reporters that the proposal runs counter to Russian law.
"The question proposed for this referendum is phrased in such a way that it contradicts Russian federal law. The Russian Federation's constitutional law on referendums provides a time constraint that totally prohibits referendums with this kind of question," Veshnyakov said.
Russian law forbids holding a referendum in the 12 months preceding a national election. The State Duma elections are slated for December 3, 2007, and the election commission says the referendum cannot be staged in the short period of time available before the December 3, 2006 deadline.
In addition, a referendum is considered valid only if the majority of citizens vote in favor of the question asked. In this particular case, a positive answer would have merely confirmed the current constitutional provision, with the activists hoping for an overwhelming negative answer.
"This chapter is not closed and...this option will be considered as an alternative if the successor situation fails."
Putin has consistently ruled out staying in power beyond 2008, insisting that the country's constitution should be respected.
Sergei Markov, a prominent political analyst close to the Kremlin, told RFE/RL's Russian Service that he backs Putin's stance against a referendum despite what he describes as the president's huge popularity.
"I think it is not rational, it breaches the law and that's why the president is against it. He is a strong political leader and the majority of the population would like him to stay for a third term, but this breaches the law," Markov said. "But if such a referendum was conducted, the majority of voters would answer in favor [of Putin]."
Succession Strategy
Putin is widely believed to be choosing a successor to replace him in 2008. But many observers speculate that he may decide to stay on if he has doubts his successor will be elected.
In an interview with RFE/RL's Russian Service, Nikita Belykh, the leader of the liberal Union of Rightist Forces party, said today's ruling in no way excludes the possibility of Putin running for a third term.
"Despite repeated official announcements that the third term is definitely not being considered, the fact that such initiatives come up shows that this chapter is not closed and that this option will be considered as an alternative if the successor situation fails," Belykh said. "There are always arguments such as 'the people's will stands higher than the law' or 'for the sake of preserving stability in society, it is possible to disregard certain norms of the constitution.'"
Indeed, the election commission's ruling does not rule out other referendum proposals. The Accord and Stability group has already declared that it is considering appealing the decision.

SUBSCRIBE For news and analysis on Russia by e-mail,
subscribe to "RFE/RL Russia Report."