The referendum, was meant to gauge public support for revoking the current constitutional ban on a third consecutive presidential term.
The amendment would theoretically allow Putin to stay in power when his second four-year term expires in 2008.
Several organizations have called for such a change in presidential term limits. The proposal rejected by the Central Election Commission was submitted by a group, called Accord and Stability, operating in the North Caucasus republic of North Ossetia.
Today's ruling appears to leave open the possibility for other political groups to submit similar proposals for a third-term referendum.
Putin has repeatedly said that, in conformity with the constitution, he would not run for a third term.
(Interfax, ITAR-TASS, AP)
Russia Beyond 2008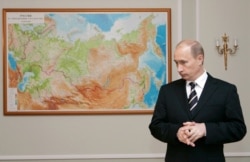 President Putin is mulling his political future (epa)

THE 2008 QUESTION: President Vladimir Putin's second term of office ends in the spring of 2008. Since the Russian Constitution bars him from seeking a third consecutive term, this event threatens to present a crisis in a country that has a history of managed power transitions. Already, Russian politics are dominated by the ominous 2008 question.
RFE/RL's Washington office hosted a briefing to discuss the prospects of Putin seeking a third term. The featured speakers were RFE/RL Communications Director Don Jensen and political scientist Peter Reddaway of George Washington University.
LISTEN
Listen to Don Jensen's presentation (about 16 minutes):
Real Audio
Windows Media
LISTEN
Listen to Peter Reddaway's presentation (about 35 minutes):
Real Audio
Windows Media
RELATED ARTICLES
Will Putin Pursue Third Term, Or Will It Pursue Him?
Could Yakunin Be 'First-Called' As Putin's Successor?
Putin Again Says He Won't Run For Third Term But Will 'Work' For Russia
Interview: Former Premier Kasyanov Warns Of Political Crisis
Former Premier Kasyanov Announces Run For President
ARCHIVE
RFE/RL's English-language
coverage of Russia
.

SUBSCRIBE
For news and analysis on Russia by e-mail,
subscribe to "RFE/RL Russia Report."