Ahtisaari formally presented his long-anticipated recommendations for Kosovo to the UN Security Council on March 26. While the broad outlines and many of the specifics of his plan for "supervised independence" came as no surprise, he made it clear beyond any doubt that his recommendation is "the only viable option" for the province, which has a 90 percent ethnic-Albanian majority.
Kosovo Albanian leaders have long argued, however, that the local Serbs must look to Prishtina -- not Belgrade -- for answers to their problems.
MORE: RFE/RL spoke with Albanian Parliament speaker Josefina Topalli.
He stressed that a return to Serbian rule is not realistic because of Belgrade's policy of repression there under Serbian and, later, Yugoslav President Slobodan Milosevic, whose rule there lasted from the late 1980s to 1999 and relied heavily on support from local Serbs. That period in Kosovo's history culminated in the massive 1999 "ethnic-cleansing" campaign, which was ended only by NATO intervention in the spring of that year. Ahtisaari argued that the impossibility of a return to Serbian rule "is a reality one cannot deny. It is irreversible."
The Last Chapter
The former Finnish president noted that Kosovo is the last chapter in the history of the dissolution of former Yugoslavia, which began in 1991. Other observers have pointed out that Kosovar independence would also mean another step forward in the worldwide decolonization process based on self-determination and majority rule, which is associated with the decades following World War II.
Britain -- which will chair the Security Council in April -- and the United States, which most Kosovars regard fondly as the decisive factor in ending Serbian rule, were both quick to hail Ahtisaari's report on March 26. British Foreign Secretary Margaret Beckett said "these proposals would give Kosovo clarity over its future."
The U.S. State Department said in a statement that the "proposals will give the people of Kosovo clarity about their future for the first time in many years. They contain far-reaching guarantees to protect the rights and security of Kosovo Serbs and other non-Albanian communities.... Ahtisaari has also proposed that Kosovo become independent, subject to a period of international supervision." Undersecretary of State Nicholas Burns added that "it's time the Kosovars received their just due.... The U.S. does support the proposal by Ahtisaari for supervised independence for Kosovo. We have not said that before."
Ahtisaari's study and the reactions to it from London and Washington reflect the conclusions reached in late 2005 by UN diplomat Kai Eide, who reported to Secretary-General Kofi Annan that protracted political limbo in Kosovo is a recipe for instability and perhaps a renewal of the violence that shook the area in March 2004. Indeed, the emergence of violent protests by young people earlier this year suggests that continued delays might indeed lead to further radicalization.
Some Controversial Moments
The report nonetheless contains some provisions that have already proven controversial in the weeks since parts of the study began to be leaked to the media. For example, the report calls for establishing a powerful office for a foreign high representative on the model set down in the 1995 Dayton agreement for Bosnia-Herzegovina. In recent years, however, many observers, including Germany's Christian Schwarz-Schilling, who is Bosnia's current high representative, have concluded that foreign paternalistic rule only hinders democratic development in the Balkans.
A second questionable recommendation calls for the abolition of the Kosova Protection Corps (TMK), which has its roots in the former Kosova Liberation Army (UCK), but which was founded to deal with natural disasters and other domestic emergencies. It is Western-trained and supervised, and has generally received high marks for its professionalism. Its abolition would not only eliminate an important civil-defense organization but also take jobs away from at least 2,000 people, many of whom are very influential in their respective communities. But since Serbs and Kosovar Albanians alike regard the TMK as the nucleus of a future Kosovar army, it appears to have been sacrificed as a concession to Belgrade and local Serbs.
A third possible problem is the report's failure to explicitly rule out the future possibility of partition. The study excludes any union of Kosovo with other states, which presumably means Albania, even though no mainstream ethnic-Albanian political party in the Balkans calls for setting up a greater Albanian state.
By failing to exclude partition, the text appears to encourage some Serbian hopes that Serbian settlements in northern Kosovo might at some point break away and join Serbia. These hopes will not be discouraged by some other of Ahtisaari's recommendations, which grant Belgrade a role in culture and other internal ethnic-Serb affairs. Kosovo Albanian leaders have long argued, however, that the local Serbs must look to Prishtina -- not Belgrade -- for answers to their problems if Kosovo is to become a state of its citizens and not a collection of rival ethnic groups.
These issues have nonetheless been on the regional political agenda for several years, and their emergence in some form or other at this point was predictable. Nor did it come as a surprise that most Belgrade politicians continue to reject independence for the province, even though it has enjoyed de facto independence from Serbia since 1999. They take this position because it is easier for them to criticize others over Kosovo than to provide solutions for Serbia's real problems, which are crime, corruption, poverty, and a democracy deficit.
All Eyes On Moscow
In a similar vein, Russia continues to object to Ahtisaari's plan. As former U.S. diplomat Richard Holbrooke recently pointed out, this is not because Russia really cares about Serbia or Serbs. Instead, Moscow seeks to use Kosovo as a bargaining tool in its dealings with Washington and London on issues of more immediate concern to Russia, such as the "frozen conflicts" in the former Soviet Union. The question is whether Russia will bargain and cajole awhile longer, or actually veto the plan, which no Russian leader has explicitly said that Moscow will do. Some observers have suggested that Russia has leverage over the Kosovo issue as long as it does not actually cast a veto, but would lose its room to maneuver as soon as it does so.
Universal Principles?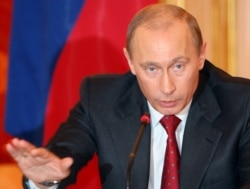 President Putin at a Kremlin meeting in April (epa)
PUTIN SPEAKS OUT: During a January press conference, Russian President Vladimir Putin said there is a need for "universal principles" to settle "frozen" conflicts in the CIS. His comments came against the background of impending talks on the future status of Kosovo, which many predict will grant it a form of "conditional independence" from Serbia and Montenegro. As an ally of Serbia, Moscow has consistently opposed the idea of Kosovar independence. Putin's remarks suggest he may be shifting his position, but only if the principles applied to Kosovo are also applied to frozen conflicts in the former Soviet Union. If Kosovo can be granted full independence, he asked, why should we deny the same to Abkhazia and South Ossetia? (more)
RELATED ARTICLES
Putin Calls For 'Universal Principles' To Settle Frozen Conflicts
Russia Key To OSCE's Attempts To Resolve Frozen Conflicts
Georgia Pushes For EU Backing In Standoffs With Russia
ARCHIVE
Click here to view archives of RFE/RL's coverage of the conflicts in Abkhazia, Chechnya, Kosovo, Nagorno-Karabakh, Ossetia, and Transdniester.