The European Union has warned that the region could plunge into chaos unless a prompt decision is made on Kosovo's status. A German government study has warned of riots and a "revolution-like development."
The threat of such a dire scenario will be in the back of UN Security Council members' minds on March 26, when UN special envoy Martti Ahtisaari will present a plan that would likely lead to conditional independence for Kosovo.
Council members United States, France, and Britain are in favor of the plan. But Russia has voiced its opposition, saying it ignores the wishes of the province's Serbian minority.
Spotlight On Russia
Ambassador Richard Holbrooke, a U.S. diplomat who negotiated the end to the Bosnian war, says Russia would have to shoulder the blame if violence returned to the region.
"Of course, Kosovo will become independent, it's inevitable," Holbrooke said. "But the Russians are encouraging the hard-liners in Belgrade by opposing the Ahtisaari plan and that is very unhelpful. And if the Ahtisaari plan is not approved by the UN Security Council when it comes up for decision next month -- there will be violence in Kosovo, and that will be the consequence of Russian actions, and they should be held fully accountable for that if it happens."
Russia is clearly aggrieved. On March 19, Russian Ambassador to the UN Vitaly Churkin walked out of a Security Council session on Kosovo.
Afterward, he expressed his disappointment with UN chief administrator of Kosovo Joachim Ruecker's briefing.
Russian officials believe Ahtisaari's plan does not go far enough in protecting the province's minority Serbian population.
"His [Ruecker's] report, particularly his remarks, have been extremely one-sided and unhelpful," Churkin said. "I think that in a way it's another symptom of the problem we're encountering. International presences should not be as one-sided as that in addressing the situation in Kosovo."
Churkin and other Russian officials believe the plan does not go far enough in protecting the province's minority Serbian population. Russian Foreign Minister Sergei Lavrov told the State Duma on March 21 that Moscow would oppose the plan if Serbian interests are ignored.
Ahtisaari's plan offers conditional independence for Kosovo. There would be trappings of statehood -- a constitution, a flag, an anthem. The province would still be watched over by the international community, largely to protect the Serbian population.
RFE/RL regional analyst Patrick Moore says that finding a solution that both parties agree on has proven to be almost impossible.
"Anybody who knows anything about the Kosovo question knows that there is probably no formula conceivable that is acceptable to both, otherwise somebody would have hit upon it by now," Moore said.
Western Double Standards?
Alexander Rahr from the German Council On Foreign Relations believes that Russia's policy on Kosovo can be attributed to the feeling that it is being squeezed out of Europe.
"The present NATO expansion, EU expansion, and now the installation of an antimissile system in Poland and the Czech Republic leads to a kind of distancing of Europe from Russia," Rahr said.
Adding to the rift are the outstanding "frozen conflicts" of the former Soviet Union.
If the principle of self-determination is applied to Kosovo, say some, why can't it be applied to the Moscow-backed separatist movements of Transdniester, Abkhazia, and South Ossetia?
Sergei Markov, a Russian analyst close to the Kremlin, believes that the UN has demonstrated double standards.
"The United Nations should use similar principles for similar cases," Markov said. "It's impossible to talk about the independence of Kosovo until we are [talking about] independence for Abkhazia, Transdneister, and South Ossetia."
The principle of self-determination, however, is a double-edged sword. Some observers say that if the three regions were to break away further, it might create more problems for Russia than it solves.
With Russian leaders giving mixed signals, the question remains as to whether Russia is prepared to use its veto in the Security Council.
Veto Threat Looms
Russia has not used its veto very often in the last decade, and Rahr thinks it's likely to stay that way.
"Judging from the past 15 years, Russia first voiced opposition to such, as it regards them, one-sided Western actions," Rahr said. "And in the end it agreed, in order, or in favor of solutions. For example, Russia's entrance to the G-8, which was then offered to Russia, or, this year, maybe WTO [membership]."
On the ground in Kosovo, international peacekeepers are getting ready for trouble. NATO has sent more troops and has said it is "fully prepared" to respond to any violence. In Kosovo, more than anywhere, people are hoping that those doomsday scenarios of war returning to Europe will not become a reality.
(RFE/RL correspondent Nikola Krastev contributed to this report)
Spotlight On Kosovo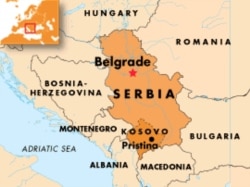 THE WORLD'S NEWEST NATION? The region of Kosovo has a population of more than 2 million, some 90 percent of whom are ethnic Albanians. It was one of the poorest regions in the former Yugoslavia, but has considerable mineral wealth and an enterprising population, many of whom work abroad but keep close contact with Kosovo. All ethnic Albanian political parties seek independence on the principles of self-determination and majority rule. They feel that Serbia lost its historically based claim to what was its autonomous province under the 1974 constitution by revoking that autonomy in the late 1980s and then conducting a crackdown in 1999 that forced some 850,000 people to flee their homes.
Since NATO's intervention that year to stop the expulsions, Kosovo has been under a UN administration (UNMIK). The UN has begun to gradually transfer functions to elected Kosovar institutions. The primary Serbian concerns are physical safety for the local Serbian minority, a secure return for the tens of thousands of Serbian displaced persons, and protection for historic Serbian religious buildings. The main problems affecting all Kosovars, however, are economic. Until Kosovo's final status is clarified and new legislation passed and enforced, it will not be able to attract the investment it needs to provide jobs for its population, which is one of the youngest and fastest growing in Europe. Prosperity is widely seen as the key to political stability and interethnic coexistence in Kosovo, as is the case in much of Southeastern Europe.
For an archive of RFE/RL's coverage of developments in the disputed region of KOSOVO, click here.