Ahtisaari said "there was no will" on the part of Serbian and Kosovo ethnic-Albanian leaders to agree on a solution.
Serbian President Boris Tadic and Prime Minister Vojislav Kostunica, and their ethnic-Albanian counterparts in Kosovo, Fatmir Sejdiu and Agim Ceku, met for a final round of talks in Vienna today.
But Ahtisaari said after the meeting that the two sides' respective statements on Kosovo's status "do not include any common ground."
Ahtisaari said he would deliver his proposal for the future of the disputed province to the UN Security Council by the end of the month.
The plan proposes that Kosovo be granted limited, internationally supervised statehood, with its own constitution, army, national anthem, and flag. In exchange, it would give the Serbian minority broad rights in running their daily affairs and preserving their culture.
Kostunica Warns Against 'Snatching' Kosovo
The plan is widely seen as putting Kosovo on the path to independence.
Ethnic Albanians have endorsed it, but Belgrade strongly rejects it.
Serbia's Prime Minister Vojislav Kostunica today said that "snatching Kosovo from Serbia would represent the most dangerous precedent in the history of the UN."
Kosovo has been under UN administration since the end of the 1998-99 war between ethnic Albanian separatists and Serbian forces.
Ethnic Albanians make up 90 percent of the province's two million people, and there are concerns that tensions could plunge the territory back into violence.
(AP, Reuters, AFP)
The Kremlin Looks At Kosovo...And Beyond
The Kremlin Looks At Kosovo...And Beyond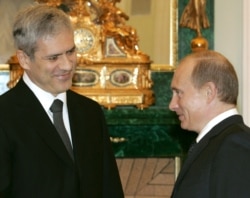 Russian President Vladimir Putin (right) greets Serbian President Boris Tadic in the Kremlin in November 2005 (TASS)
WILL THE KREMLIN BACK INDEPENDENCE? As the drive for independence grows in the Serbian province of Kosovo, the international community is speculating on how Russia, a veto-wielding member of the UN Security Council, will act. On September 22, Nicholas Whyte, director of the International Crisis Group's Europe Program, gave a briefing on the subject at RFE/RL's Washington, D.C., office. He speculated on what the Kremlin's "price" might be for agreeing to Kosovo's separation from Serbia.
LISTEN
Listen to the entire briefing (about 45 minutes):
Real Audio
Windows Media
RELATED ARTICLES
Referendums Seen As Kremlin's Master Plan
Independence Votes Popular In The Kremlin
Putin Warns Against Montenegro Model
How Does Moscow View Frozen CIS Conflicts?
Putin Calls For 'Universal Principles' To Settle Frozen Conflicts
ARCHIVE
RFE/RL's coverage of
Kosovo
and
Russia
.
SUBSCRIBE
For news and analysis on Russia by e-mail,
subscribe to "RFE/RL Russia Report."