Speaking at a Berlin news conference with German Foreign Minister Frank-Walter Steinmeier, Lavrov warned that "only two sides" can make a decision on Kosovo and "no one can impose" a solution.
"A decision on Kosovo can be made only by the parties themselves," Lavrov said. "No one can impose a solution. In any event, Russia will not be part of such a scheme."
UN Kosovo envoy Martti Ahtisaari has proposed limited statehood for the province but not full independence.
"Of course, I respect Martti Ahtisaari," Lavrov said. "We have known each other very well for a long time. But it is not up to him to decide whether or not the time for making a decision has run out. Mr. Ahtisaari is carrying out a mandate given to him by the UN secretary-general and the Security Council to provide mediation between the parties in the Kosovo settlement process."
Moscow has consistently opposed a final-status solution for Kosovo that is not acceptable to both Belgrade and Pristina.
(Reuters, Interfax)
The Kremlin Looks At Kosovo...And Beyond
The Kremlin Looks At Kosovo...And Beyond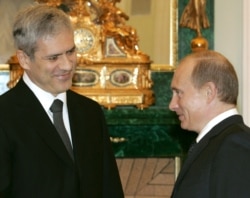 Russian President Vladimir Putin (right) greets Serbian President Boris Tadic in the Kremlin in November 2005 (TASS)
WILL THE KREMLIN BACK INDEPENDENCE? As the drive for independence grows in the Serbian province of Kosovo, the international community is speculating on how Russia, a veto-wielding member of the UN Security Council, will act. On September 22, Nicholas Whyte, director of the International Crisis Group's Europe Program, gave a briefing on the subject at RFE/RL's Washington, D.C., office. He speculated on what the Kremlin's "price" might be for agreeing to Kosovo's separation from Serbia.
LISTEN
Listen to the entire briefing (about 45 minutes):
Real Audio
Windows Media
RELATED ARTICLES
Referendums Seen As Kremlin's Master Plan
Independence Votes Popular In The Kremlin
Putin Warns Against Montenegro Model
How Does Moscow View Frozen CIS Conflicts?
Putin Calls For 'Universal Principles' To Settle Frozen Conflicts
ARCHIVE
RFE/RL's coverage of
Kosovo
and
Russia
.
SUBSCRIBE
For news and analysis on Russia by e-mail,
subscribe to "RFE/RL Russia Report."