During his speech at the 43rd
Munich Conference on Security Policy
, Putin said that a U.S.-led "unipolar world" has "nothing in common with democracy" and is unacceptable.
The annual conference was attended by 250 international officials, including 40 defense and foreign ministers. The United States was represented by Defense Secretary Robert Gates and some lawmakers.
A Bad Concept
"Everything that is going on this world today is a consequence of attempts to implement a unipolar world concept," he told the gathering. "And what is the result of that? Unilateral, often illegitimate actions have not resolved one single problem. On the contrary, they have caused new human tragedies and more tension."
He said this policy has not decreased the number of wars or local or regional conflicts. "And more people -- significantly more people -- are dying in such conflicts," Putin said.
He singled out one country, the United States, for imposing its views on other countries.
"Everything that is going on this world today is a consequence of attempts to implement a unipolar world concept." -- Putin
"Some norms -- in fact almost the entire legal system of one country, primarily the United States, of course -- have overstepped their national borders and are being imposed on other countries essentially in all areas: in economic, political, and humanitarian matters. Who is going to like that?"

Following the speech, U.S. Defense Secretary Gates described Putin's comments as "interesting, very forthright." U.S. Senator Joseph Lieberman characterized the speech as "provocative" and as "rhetoric that sounded more like the Cold War."
A Putin spokesperson later told reporters that the Russian president was not trying to provoke the United States. "This is not about confrontation, it's an invitation to think," the spokesperson said.

In answering a question later in the day, Putin commented on U.S. President George W. Bush. "I consider the president of the United States a decent man," Putin said. "He is also a friend. He is criticized for everything he does but he is a decent man. He says Russia and the U.S. will never be enemies and I agree with him."

Unilateral Criticism

In the course of his keynote address to the security conference, Putin said that the "almost uncontained, hyper use of force in international relations" has increased global insecurity.

The Russian president said military force should be used as a last resort and only under the authority of the United Nations. He said the UN "cannot be replaced by the European Union or NATO."

He also criticized unspecified attempts to use the Organization for Security and Cooperation in Europe (OSCE) for political purposes, saying that "attempts are being made to turn the OSCE into a vulgar instrument of protecting the political interests of one country or a group of countries in relation to other countries."
Putin arriving at the conference (courtesy photo)
In order to meet that goal, according to Putin, "the OSCE has tailored a bureaucratic apparatus that has no connection with the founding countries, set up its decision-making procedures, and the use of so-called nongovernmental organizations that are formally independent but are financed with a particular purpose, which means they under control [of those who fund them]."
Putin said Russia does not need Europe to prod it into being more active in international affairs, adding that "we also want to deal with responsible and independent partners."
He also said Russia does not need lessons in democracy.
"People are always teaching us democracy but the people who teach us democracy don't want to learn it themselves," he said.
Iran And Missiles
Putin defended the recent sale of Russian missiles to Iran. But the Russian leader said he recognizes the world's concern about the scope of Iran's nuclear program.
In opening the conference, German Chancellor Angela Merkel said that the
international community is united
in its determination to prevent Iran from developing a nuclear weapon, and warned the country not to use "tricks" to meet demands to stop its nuclear program.
In his comments, Putin said he
does not understand Iran's failure to respond
to concerns that have been voiced by the International Atomic Energy Agency.
"People are always teaching us democracy but the people who teach us democracy don't want to learn it themselves." -- Putin
On other issues, Putin claimed the United States is seeking to militarize outer space and said Russia is drafting a proposal for international approval that would ban such activity.
He also accused NATO of placing military forces close to the Russian border and criticized U.S. plans to build missile-defense sites in Central Europe.
"We are also concerned about the plans to deploy elements of a missile defense system in Europe," Putin said. "Who needs another arms race, which would be inevitable in this case?"
He expressed "strong doubts" that the Europeans needed such protection, arguing that none of the "so-called problem countries" have missiles that present a threat to Europe.
"Even hypothetically, for example, the launch of a North Korean missile toward U.S. territory over Western Europe clearly goes against the laws of ballistics," he added.
Kosovo Issue
Addressing the issue of Kosovo, Putin said the international community should not try to impose a solution.
He said Russia -- a veto-wielding UN Security Council member -- would oppose any international plan to resolve the status of the UN-administered Serbian province not accepted by both Serbia and Kosovo's ethnic Albanian majority.
(with material from Reuters, AP, dpa)
The Post-Soviet Petrostate
The Post-Soviet Petrostate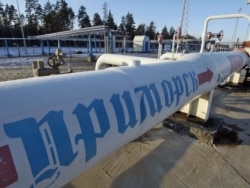 The oil-export terminal at Primorsk, Russia (TASS)


WEALTH AND POWER. At an RFE/RL briefing in Washington on January 24, Freedom House Director of Studies Christopher Walker and RFE/RL regional analyst Daniel Kimmage argued that energy-sector wealth is preventing many former Soviet countries -- Azerbaijan, Kazakhstan, Russia, and Turkmenistan -- from developing strong democratic institutions.
LISTEN
Listen to the entire briefing (about 90 minutes):

Real Audio
Windows Media
RELATED ARTICLES
Russia's Gazprom Looks Ahead To A New Year
Azerbaijan: Coping With The Oil Windfall
Azerbaijan Boom Sparks Fears Of Dutch Disease
Kazakh President Tells West -- We Don't Need Your Advice
Could Turkmen President's Death Lead Instability?