In the past, both Kyiv and Brussels have made it clear that full EU membership for Ukraine is a long way off.
Yanukovych is in Brussels for an official visit.
European Commission President Jose Manuel Barroso told the Ukrainian premier that an enhanced partnership with Brussels should focus on trade and energy.
"We want an agreement which reflects the importance of our relationship and brings Ukraine and the European Union closer to each other," Barroso said.
"These negotiations will open new opportunities, such as a free-trade area and a deepened partnership on energy," he added.
Barroso also called Ukraine a "key energy partner and transit country" for the EU in its attempts to forge links with Central Asia.
Talks on a new accord between Ukraine and the EU began earlier this year.
Barroso said that due to "some vast and complex issues" he could not say exactly when a new enhanced cooperation agreement with Ukraine could be signed.
Barroso also said a free-trade agreement between the EU and Ukraine could only be negotiated once Kyiv has completed its accession process to the World Trade Organization.
The European Commission also says it will unveil plans in April for closer cooperation with the Black Sea countries, including Ukraine.
Yanukovych's trip to Brussels came just a day after a visit by Ukraine's new foreign minister Arseniy Yatseniuk.
(with material from dpa)

Ukraine And European Energy Security
Ukraine And European Energy Security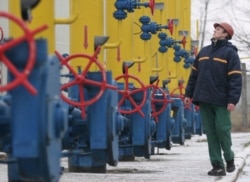 A worker inspects a gas facility outside of Kyiv (epa file photo)

MURKY CONNECTIONS. A year after the so-called gas war between Moscow and Kyiv, energy transhipments from Russia to Europe via Ukraine remain a concern. On December 1, RFE/RL's Washington office hosted a briefing featuring Tom Mayne, an energy researcher for the London-based Global Witness. Mayne discussed the lack of transparency in the energy sectors of Ukraine, Russia, and gas supplier Turkmenistan.
LISTEN
Listen to the entire briefing (about 60 minutes):

Real Audio
Windows Media
RELATED ARTICLES
Neighbors Watch As Russia Moves Toward WTO Membership
Kyiv Announces Terms Of New Russian Gas Deal
Former U.S. Ambassador Says Kyiv Can Cope With Gas Price Rise
ARCHIVE
RFE/RL's English-language coverage of
Ukraine
,
Russia
, and
Turkmenistan
.