Iran's cabinet voted the following day to reduce Iranian cooperation with UN nuclear inspectors. Officials in Tehran have denounced the latest resolution as illegal, impractical, and unrepresentative of international opinion.
The latest resolution enhances sanctions imposed on Iran in December (Resolution 1737), after Iran refused to halt atomic fuel-making activities in response to UN demands. It increases the number of Iranian individuals and firms purportedly linked to Iran's nuclear and ballistic programs whose foreign assets are to be frozen. It also imposes a ban on Iranian arms exports and urges states to refrain from extending loans to Iran.
Some Western states suspect Iran could use its developing nuclear know-how in a future bomb-making program. Those are charges that Iran rejects, but Tehran now has two months to comply verifiably with UN demands to halt uranium-enrichment and related activities. If it does not, it could face further sanctions.
Iran Defiant
Iranian Foreign Minister Manuchehr Mottaki told the Security Council on March 24 that the resolution was "illegal, useless, and unjustified." He also said the sanctions are "too small" to force Iranians to "relent" in what he called "their rightful and legal demands." He insisted that Tehran "wants neither confrontation nor anything beyond the integrity of its rights." But he added that Western states are misinformed if they think resolutions can weaken Iranian resolve.
Mottaki warned that "the only good [that can come] of this resolution" is persuading "free" countries to distrust "multilateral and international mechanisms" in pursuing their "rights." He reiterated that Iran's program "is entirely peaceful" and said "Iran has stated its readiness to resolve any concerns in this regard."
The Iranian foreign minister also accused the authors of the latest "assault" on Iran of bullying members of the International Atomic Energy Agency (IAEA) -- and now of the Security Council -- into repeatedly voting against Iran. He said the resolution does not reflect the views of most UN members.
He insisted that members of the Non-Aligned Movement and the Organization of the Islamic Conference "in their most recent position," in September, "supported Iran's position." Mottaki claimed that the "reality" is that "a few members of the Security Council have, to pursue their political goals, taken the issue out of the [IAEA] as the technical and principal body dealing with this subject, and transferred it to the Security Council." He accused these states forging and fabricating evidence against Iran.
On March 25, Mottaki accused rival governments of "abusing" the Security Council, according to the AP. He said in New York that the 5+1 powers -- Security Council permanent members plus Germany -- imposed preconditions on talks with Iran because there was no "political will" on their part to reach an agreement with Tehran.
Calls For Resumption Of Talks
Iranian Foreign Ministry spokesman Mohammad Ali Hosseini said on March 25 that the resolution violated the Security Council's duties to safeguard the rights of UN member states in line with Article 25 of the UN Charter. The spokesman said the Security Council has to respect the law and added that the IAEA has not so far accused Iran of deviating from peaceful nuclear activities. He proposed "unconditional" talks "with a precise timetable" to remove any "ambiguity" on Iran's program.
Alaeddin Borujerdi, a legislator and head of the Iranian parliament's National Security and Foreign Policy Committee, has called the resolution "unacceptable and unfeasible" and "based on America's pressure," Mehr reported on March 25. Borujerdi is also a senior member of the nuclear committee of Iran's Supreme National Security Council.
He suggested that the 5+1 powers return to the "negotiating table as soon as possible." He also claimed that if negotiations "had begun a few months ago without" what he called an "irrelevant insistence on [enrichment] suspension," the international community would have been in a better position today to reach a general agreement. Borujerdi said reticence displayed by Security Council members Indonesia and South Africa before the vote showed there was no real consensus on the resolution. He said those and other nonaligned states showed "serious opposition" to "pressure" on Iran in any meeting "not dominated by America."
Borujerdi rejected any suspension of enrichment activities by Iran in exchange for a suspension of sanctions. He claimed Iran did this in the past but achieved nothing because of 5+1 opposition to a "mutually acceptable solution."
No Relenting On Enrichment
Another legislator and a member of the parliamentary presidium, Hamid Reza Haji-Babai, warned after the latest Security Council vote that "there is no possibility of [suspension] by Iran" as such a move is against national interests and public wishes, ISNA reported on March 25.
Iran may well react beyond verbal protests, and restrict access to its installations by IAEA inspectors. Borujerdi told Mehr on March 25 that "parliament will certainly" react to Resolution 1747 when it reconvenes after Iran's new-year holidays in April and after consultations with relevant officials.
More immediately, government spokesman Gholam Hussein Elham said on March 25 that the cabinet had approved the suspension of parts of Iran's program of cooperation with the IAEA. He noted that the move was in line with a parliamentary law passed on December 27, 2006, obliging the government to review such collaborations.
Elham said Iran's Atomic Energy Organization would suspend the implementation of sections 1 and 3 of "peripheral arrangements" to the safeguards agreement signed with the IAEA in 2003 concerning enhanced Iranian cooperation. Elham said Iran had accepted in that agreement -- specifically in those sections -- to give the IAEA six months' notice on details of any of its plans or decisions on creating "any form of installations or on implementing any nuclear-related program," while Nuclear Nonproliferation Treaty (NPT) members are required to give just three months' notice. It was unclear if this was part of Iran's past commitment to implement the additional protocol to the NPT or a separate agreement.
The resolution and Iran's reactions appear for now to have left the dispute in a legalistic and verbal quagmire. Both sides cite legal clauses or evidence -- or the increasingly pseudo-legal territory of the international community's wishes and concerns.
But the impasse is over the key issue of enrichment and fuel making. And continuing Western distrust of Iran's potential or future use of related know-how -- and perhaps more broadly of the Islamic republic's intentions in the foreign policy sphere. The question of how to address this distrust remains.
Talking Technical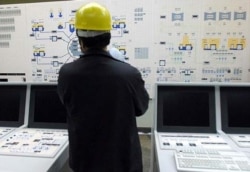 A control panel at the Bushehr nuclear power plant (Fars)

CASCADES AND CENTRIFUGES: Experts and pundits alike continue to debate the goals and status of Iran's nuclear program. It remains unclear whether the program is, as Tehran insists, a purely peaceful enegy project or, as the United States claims, part of an effort to acquire nuclear weapons.
On June 7, 2006, RFE/RL correspondent Charles Recknagel spoke with nuclear expert Shannon Kile of the Stockholm International Peace Research Institute in Sweden to help sort through some of the technical issues involved. "[Natanz] will be quite a large plant," Kile said. "There will be about 50,000 centrifuges and how much enriched uranium that can produce [is] hard to say because the efficiency of the centrifuges is not really known yet. But it would clearly be enough to be able to produce enough [highly-enriched uranium] for a nuclear weapon in fairly short order, if that's the route that they chose to go...." (more)
RELATED ARTICLES
Tehran Says It Is Working On Advanced Nuclear Fusion
Would Light-Water Reactor Suit Tehran's Needs?
Satellite Images Raise Questions About Iran's Nuclear Program
Centrifuges And Political Spin?
How Close Is Iran To Getting Nuclear Bomb?
Iran: The Worst-Case Scenarios

THE COMPLETE STORY: RFE/RL's complete coverage of controversy surrounding Iran's nuclear program.