One of the trucks was detonated by remote control in a Shi'ite neighborhood while people gathered to buy the flour it was carrying.
The other truck was loaded with vegetables and parked near a wholesale market.
At least 10 people were killed in Tal Afar on March 24 when a suicide bomber struck a market.
In other Iraqi violence today, a suicide bomber killed as many as 17 people near the town of Al-Ramadi, west of Baghdad.
Gun and mortar attacks reportedly killed around 20 people in Baghdad.
Four people were killed in Al-Iskandariyah, south of Baghdad, when gunmen opened fire on a funeral procession.
In the northern city of Kirkuk, two Catholic nuns were stabbed to death.
In a separate development, the U.S. military says a U.S. combat post was attacked by insurgents near Al-Fallujah. It says U.S. troops repelled the attack, killing 15 insurgents. Eight U.S. soldiers were wounded.
(compiled from agency reports)
On The Verge Of Civil War
On The Verge Of Civil War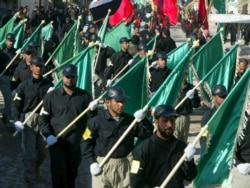 The Imam Al-Mahdi Army on parade (epa)
HAS THE CONFLICT IN IRAQ BECOME A CIVIL WAR? Many observers have concluded that the tit-for-tat sectarian violence that emerged after the February 2006 bombing of a mosque in Samarra has become a full-blown civil war.... (more)


RELATED ARTICLES
U.S. Media Starts Using 'Civil War' Label
Iraqi Prime Minister Under Fire From All Sides
U.S. Expert Discusses Prospects For Stabilization
President Says Iraq Needs Iran's Help
Saudi Arabia To Seal Off Border With Security Fence

THE COMPLETE PICTURE:
Click on the image to view RFE/RL's complete coverage of events in Iraq and that country's ongoing transition.