The exercises involve two aircraft carriers -- the "USS John C. Stennis" and the "USS Dwight D. Eisenhower" -- and their battle groups.
They come at a time of high tension between the U.S. and Iran over Tehran's nuclear program, and also between Iran and U.S.-ally Britain over the capture of 15 British sailors.
U.S. naval officials said in a statement that "two air wings from the aircraft carriers will conduct air warfare exercises while the surface components will conduct exercises in three general disciplines: anti-submarine, anti-surface and mine warfare."
No Pressure Intended
The USS John Stennis group with its 6,500-strong force entered the Gulf this week.
U.S. Navy Commander Kevin Aandahl said the U.S. warships would stay out of Iranian territorial waters, which extend approximately 20 kilometers off the country's coast.
U.S. officials said the exercise is not intended to exert pressure on Iran so much as to reassure regional allies that Washington can project additional power into the area despite its commitments in Iraq. They also said the planned exercises are unconnected to recent capture of the British personnel.
On March 27, the U.S. military denied reports that Iran had fired a missile at a U.S. ship. A U.S. naval spokesman said such reports had been checked and turned out to be untrue.
Meanwhile, Tehran has announced that the British sailors and marines it captured might be put on trial.
A Different Phase
Speaking on Iranian television on March 27, Foreign Ministry spokesman Muhammad Ali Hosseini said an investigation process is under way.
"These British marines crossed the Iranian border in an illegal manner and were arrested by the Islamic Republic of Iran," Hosseini said.
"We are currently in the process of investigating matters further. However, they are in a completely safe location, and they are being treated in a humane manner and in adherence to Islamic guidance." he added.
Also on March 27, British Prime Minister Tony Blair called on Tehran to release the naval personnel quickly.
"I hope we manage to get [the Iranian government] to realize they have to release them," Blair said. "If not, then this will move into a different phase, but at the moment what we are trying to do is to make sure that that diplomatic initiative works," he added.
British Foreign Secretary Margaret Beckett is expected to brief the British parliament on the issue today.
Iran says the British personnel were in Iranian waters when they were seized - but Britain says the sailors were in Iraqi waters under a UN mandate.

The Proliferation Threat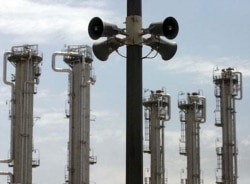 The Arak heavy-water plant in central Iran (Fars)


BENDING THE RULES. Henry Sokolski, executive director of the Nonproliferation Policy Education Center, told an RFE/RL-Radio Free Asia briefing on January 9 that the West is hamstrung in dealing with Iran and North Korea because of the way it has interpreted the international nonproliferation regime to benefit friendly countries like India and Japan.
LISTEN
Listen to the entire briefing (about 90 minutes):

Real Audio
Windows Media
RELATED ARTICLES
Iran, North Korea Present Proliferation Challenges
Tehran Watches As North Korea Tests Global Resolve
Rogue Nuclear Programs Threaten New Arms Race
Why Shouldn't Pyongyang Join Nuclear Club?