Beckett's announcement came shortly after the Defense Ministry released evidence it said showed the sailors and Royal Marines were operating in Iraqi waters when they were captured on March 23.
It also came as the United States Navy began the largest maneuvers in the Persian Gulf since the 2003 invasion of Iraq.
"We are now in a new phase of diplomatic activity," Beckett told Parliament, adding that London wanted to focus all of its "bilateral efforts during this phase" toward freeing the sailors and marines.
"We will therefore be imposing a freeze on all other official, bilateral business with Iran till this situation is resolved. We will keep other aspects of our policy towards Iran under close review and continue to proceed carefully," she said.
Tehran has announced that the British sailors and marines it captured on March 23 might be put on trial.
Britain Denies Ship in Iranian Waters

Royal Navy Vice Admiral Charles Style, deputy chief of the British defense staff, denied today that the sailors and marines on the "HMS Cornwall" violated Iran's territorial waters.
"My primary message is clear: 'HMS Cornwall' with her boarding party was about her legal business, in Iraqi territorial waters, under a United Nations Security Council resolution and with the explicit approval of the Iraqi government," Style said. "The action by Iranian forces in arresting and detaining our people is unjustified and wrong. As such it is a matter of deep concern to us," Style added.
The British Ministry of Defense has released satellite data supporting the statement.
Earlier today, Prime Minister Tony Blair told lawmakers it was time to increase diplomatic pressure on Iran over the incident -- which Iran says took place in Iranian waters.
Iran's Embassy in London said the British and Iranian governments were capable of resolving the incident.
(Reuters, AP, AFP)


The Proliferation Threat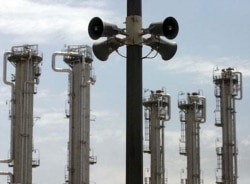 The Arak heavy-water plant in central Iran (Fars)


BENDING THE RULES. Henry Sokolski, executive director of the Nonproliferation Policy Education Center, told an RFE/RL-Radio Free Asia briefing on January 9 that the West is hamstrung in dealing with Iran and North Korea because of the way it has interpreted the international nonproliferation regime to benefit friendly countries like India and Japan.
LISTEN
Listen to the entire briefing (about 90 minutes):

Real Audio
Windows Media
RELATED ARTICLES
Iran, North Korea Present Proliferation Challenges
Tehran Watches As North Korea Tests Global Resolve
Rogue Nuclear Programs Threaten New Arms Race
Why Shouldn't Pyongyang Join Nuclear Club?