South Africa's UN Ambassador Dumisani Kumalo, the current council president, said the proposal would be discussed later today.
Ali Larijani, the secretary of Iran's Supreme National Security Council, meanwhile, warned that Iran might pursue a "legal path" in the case.
Iran seized the naval personnel, who were aboard the HMS Cornwall, on March 23. Tehran says the ship was in its territorial waters while Britain says it was in Iraq's waters under a UN mandate.
"There was no aggression, no hurt, no harm. They were very, very compassionate."
Iranian Foreign Minister Manuchehr Mottaki demanded on March 28 that London acknowledge it violated Iran's territorial waters before the case of detained sailors and marines can be resolved.
Britain promptly rejected the new Iranian condition, meaning the standoff is likely to continue for some time.
Televised Footage
Mottaki's demand came shortly after Iranian television broadcast footage of some of the detained Britons. The footage included Faye Turney, the only female crew member, who said the sailors and marines had "trespassed" into Iranian waters.
"Obviously we trespassed into their waters. They were very friendly, very hospitable, very thoughtful, nice people," Turney said. "They explained to us why we'd been arrested. There was no aggression, no hurt, no harm. They were very, very compassionate," she added.
The Iranian TV broadcast was shown on one of the country's Arabic-language stations, with the clear intent of getting maximum regional coverage.
Extensive Media Campaign
British Defense Minister Des Browne condemned the move.
"I've seen the footage, obviously, of Faye Turney and her comrades, and I don't really intend to dwell on the nature of that footage or, indeed, the way in which it was put into the public domain other than to say it is completely unacceptable to parade our people in this way," Browne said.
British officials mounted an extensive media campaign on March 28, using charts and coordinates to prove that the vessel in question, the "HMS Cornwall," had not strayed into Iranian waters.
By demanding an admission of wrongdoing from London, Tehran may be indicating that it sees the conflict as a matter of national pride and honor, rather than a technical matter.
The seizure of the British sailors and marines came as Iran faced defeat in the UN Security Council over its nuclear ambitions and at the same time as the United States Navy conducted its largest exercise in Persian Gulf waters since 2003.
Those maneuvers, involving two U.S. aircraft carriers sailing close to Iran's shores, but in international waters, are due to end today.
In another development, UN Secretary-General Ban Ki-moon held talks with Iran's foreign minister in the Saudi capital Riyadh today, on the sidelines of a Mideast peace conference.
The two discussed the crisis, but so far, no mediated solution has emerged.
(with material from agency reports)
Iraq And Iran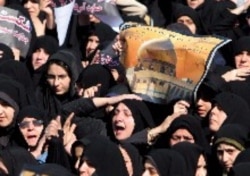 Iranian Shi'a protesting the Golden Mosque Bombing in Iraq on February 24


WHAT IS GOING ON? On March 8, RFE/RL's Washington office hosted a roundtable discussion on relations between Iraq and Iran. Although most analysts agree that Iran has been actively involved in Iraq since the U.S.-led military operation to oust former Iraqi President Saddam Hussein, they continue to debate the nature, extent, and intent of that involvement.
The RFE/RL briefing featured WAYNE WHITE, former deputy director of the U.S. State Department Bureau of Intelligence and Research's Office of Analysis for the Near East and South Asia, and A. WILLIAM SAMII, RFE/RL's regional analyst for Iran and editor of the "RFE/RL Iran Report."
LISTEN
Listen to the complete RFE/RL briefing (about 75 minutes):

Real Audio
Windows Media
RELATED ARTICLES
Iran/Iraq: Bilateral Ties Improving Despite U.S. Worries
Renewed Speculation About Tehran And Instability In Iraq
Iran/Iraq: Neighbors Mending Ties, But Outstanding Issues Remain
ARCHIVE
RFE/RL's
coverage of Iran
. RFE/RL's
coverage of Iraq
.