Hospital sources said nearly 140 were wounded in the bombings, which struck a Shi'ite district of the Iraqi capital.
And in the mainly Shi'ite town of Al-Khalis, north of Baghdad, three coordinated bombings struck a busy market, killing more than 50 and wounding scores more.
The attacks made March 29 one of the deadliest days in Iraq in months.
(AP, AFP, Reuters)
On The Verge Of Civil War
On The Verge Of Civil War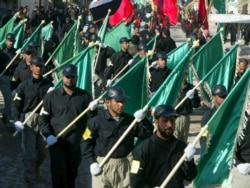 The Imam Al-Mahdi Army on parade (epa)
HAS THE CONFLICT IN IRAQ BECOME A CIVIL WAR? Many observers have concluded that the tit-for-tat sectarian violence that emerged after the February 2006 bombing of a mosque in Samarra has become a full-blown civil war.... (more)


RELATED ARTICLES
U.S. Media Starts Using 'Civil War' Label
Iraqi Prime Minister Under Fire From All Sides
U.S. Expert Discusses Prospects For Stabilization
President Says Iraq Needs Iran's Help
Saudi Arabia To Seal Off Border With Security Fence

THE COMPLETE PICTURE:
Click on the image to view RFE/RL's complete coverage of events in Iraq and that country's ongoing transition.