Some argue that most Islamic banks serve only the wealthiest clients in oil-rich Arab states. Those critics say the basic principles of Islamic finance need to be reevaluated to allow loan programs that help poor Muslims start small businesses and improve their lives.
Islamic finance is surging as Muslims in the oil-rich Middle East search for ways to place their money that is consistent with the Koran.
Banks Just For The Rich?

The International Organization of Securities Commissions reports annual growth of up to 20 percent during the past decade for the Islamic banking, insurance, and capital markets.

It also predicts that as much as half of the savings of the world's 1.3 billion Muslims will be in Islamic financial institutions by the year 2015.

But critics say Islamic financial institutions have evolved in a way that mostly serves the needs of extremely rich individuals.

That's because one of the most basic rules of Islamic finance is a prohibition against what the Koran calls "riba" -- the payment and collection of interest on loans or savings deposits. The critics say allowing a reasonable interest rate to be charged for small loans would allow Islamic banks to create self-sustaining credit programs that help poor Muslims.

Abdul Ghafoor, a Netherlands-based author and expert on Islamic finance, told RFE/RL that the Koran's prohibitions make it difficult for Islamic financial institutions to work in the same way as a conventional bank.

"These are still issues and they are not being resolved," Ghafoor said. "When the theoreticians -- the Islamic economists -- became aware of it and started thinking about it, they had a different theoretical model. But what is being implemented today is very different. The theoretical model they had itself had a flaw. Still, there was some provision both for banking and finance. But today, banking actions are not in the so-called 'Islamic banking.' What is happening is only financial services. Nowadays, tacitly, they refer to 'Islamic banking' as 'Islamic finance.' They are only dealing with a small portion of what the normal banks do."
Because of Koranic restrictions, most financial institutions that call themselves "Islamic" are able to serve only the richest clients in the Muslim world.

As a result, Ghafoor said most financial institutions that call themselves "Islamic" are able to serve only the richest clients in the Muslim world.

"Transferring money from one person to another or one account to another -- that is the bulk of the work in a conventional bank," he says. "That service is not being provided by Islamic banks. And most of the Islamic banks are also registered not as 'banks,' but as 'financial institutions.' So most of the service they provide is financial things. And unfortunatley, it has also come to be servicing mostly only high net worth individuals."
Lending Based On Charity

Michael Saleh Gassner heads an Islamic investment consultancy with offices in London and Saudi Arabia. A Muslim himself, Gassner told RFE/RL he thinks Islamic finance needs to create loan programs for the poor that incorporate the Koran's recommendations on charity.

"What we need is not only to exclude things which are forbidden in Islam, but to include things which are recommended by the religion," Gassner said. "So we have to look at how we can better finance the poorer people -- how we can include poor people and serve them like clients and earn money with them, having profits even with the poorest. This did not yet reach the Islamic finance community. This is something which we need to look at in the future."

Ghafoor said an excellent model for the development of charitable Islamic banking is Grameen Bank -- the Bangladesh-based micro-lending institution that won the 2006 Nobel Peace Prize.

Grameen's Course

Begun in 1983 by Muhammad Yunus as a way of reducing poverty, Grameen Bank now issues thousands of small loans to poor people who are trying to start their own business.

The average size of a Grameen Bank microloan is about $130. The interest rate usually ranges from 15 to 35 percent -- making it the only alternative for the poor to local moneylenders who regularly charge 10 times that amount.

Speaking in December after winning the Nobel Peace Prize, Yunus said he is aware that some Islamists still consider Grameen Bank's competitive interest rate to be a violation of the Koran.


But Yunus argued that the institution is merely covering its administrative costs by charging a minimal interest rate so that it can continue as a charity that helps the poor:
"If lending money to the poor people changes their lives, and you can do business -- you are getting money back and cover all your costs -- why shouldn't we do more of that?" Yunus said. "So this is one issue that we keep raising and something that will continue."
Within Islam, Yunus said he has faced the most criticism from conservatives who oppose the idea of lending money to women.
"It is lending money to the women which is causing the problem," Yunus said. "They thought that by lending money to women, the women will be coming out of the house and moving out into the marketplace -- which they thought, in their interpretation, is not what Islam wanted them to do. So we said, 'That's what you are assuming. You should look at what is happening. People are taking their money and using their money to build their lives. And being in business by women is nothing new in Islam. In the old days, even the Prophet married a woman who was a business woman.'"
Changing Attitudes On Investing

Gassner said many Muslims around the world are beginning to change the way they think about Islamic investment.

For example, conservative Islamic scholars conclude that investing in stock markets is prohibited by the Koran as a form of gambling.

But there is now a strong movement toward private equity companies and local investment in the Middle East. Gassner said that in the core Middle East markets -- Bahrain, Kuwait, Oman, Qatar, Saudi Arabia, and the United Arab Emirates -- investors are thinking more about ways to improve living conditions across the Muslim world.
Gassner concluded that this emerging mindset for Islamic investment means it is now a critical time for Central Asian countries to send delegates to the Middle East. He says the will to help those countries does exist among rich Arab investors. But he says relationships still need to be built.
Microlending In Focus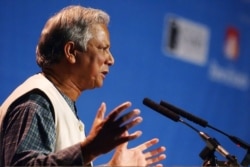 Nobel Peace Prize laureate Muhammad Yunus (epa file photo)


FOR AS LITTLE AS $9. Microcredit is the practice of giving very small loans to poor people who are considered too much of a risk for traditional bank loans. These people often do not have collateral -- things like a cow or house to secure their loan -- or even a job. Despite this, microcredit institutions will lend them small amounts of money at a low interest rate.
The average microloan-repayment rate is higher than the repayment rate for traditional lending. As an example, FINCA International -- which establishes its own small banks in villages -- boasts a repayment rate of 97 percent.
Microloans have proven such an effective way to lift people out of poverty that the Economic and Social Council of the United Nations proclaimed 2005 to be the International Year of Microcredit.
In 2006, the Nobel Peace Prize was awarded to a pioneer in the field: Bangladeshi economist Muhammad Yunus and his Grameen Bank was awarded the prestigious prize for creating major social change in Bangladeshi villages, with loans as small as $9.
SUBSCRIBE
For a regular review of civil-society developments throughout RFE/RL's broadcast region,
subscribe to "RFE/RL (Un)Civil Societies."