For 18 years, she worked in a carpet factory. Now, at age 51, she has decided to start her own business to make more money and provide for her two children. But she needs $1,200 to purchase a weaving machine.
Thirty-five-year-old Mohammad Salim Mohammad Rahim sells charcoal on the side of a busy road in Kabul. He needs $625 to buy more inventory so he can help provide for his family of four.
Need Around The Globe
Gakhramonova and Rahim are just two of the thousands of small-businesspeople featured on the website of Kiva, a U.S.-based online microcredit company that connects small investors with impoverished people around the world who want to start or grow their own small business.
Kiva, headquartered in San Francisco, was founded in 2005 by two newly married Americans -- Matt and Jessica Flannery -- who were working in East Africa. There they met hundreds of people who were trying to break out of the cycle of poverty with a small business or farm, but who were unable to get traditional bank loans.
"To be a lender is a wonderful feeling, to be connected across the planet with someone, as a business partner." Kiva President Premal Shah.
Jessica, an economist, and Matt, a computer specialist, realized that many of their friends and family members back in the United States would be happy to lend money to these entrepreneurs to help them succeed. When they returned from Africa, they set about establishing Kiva -- which means "unity" in Swahili -- to connect investors and lenders electronically.
One of these investors is Premal Shah, Kiva's president. He has personally lent money to 42 entrepreneurs, including a woman who raises cattle in Azerbaijan and a fisherman in Mozambique.
If I Ran The Bank
"To be a lender is a wonderful feeling, to be connected across the planet with someone, as a business partner," Shah said. "This person is an entrepreneur with an idea, whether it's to start a dairy farm, or to start a small rug-making business, and a little bit of seed capital from you can make all the difference."
The
Kiva website
is a searchable database that contains thousands of pictures and stories of poor small-businesspeople in Africa, Central Asia, Eastern Europe, Central America, and the Middle East.
Anyone with a bank account or a credit card can pick one of these entrepreneurs and send them all or part of what they need -- as little as $25 or as much as $1,500 -- the maximum amount that can be borrowed.
Kiva's slogan is "Loans that change lives," and in less than two years, visitors to its website have loaned more than $1 million to help start or expand more than 2,000 businesses.
To deliver the money, Kiva has partnered with local microfinance institutions in dozens of countries. They evaluate each loan application, disperse funds, and collect repayment.
In Moldova, Kiva's microfinance partner is Microinvest, which was founded by Soros Foundation Moldova and International Solidarity for Development and Investment, a French nongovernmental organization dedicated to fighting poverty.
Igor Gudumac is Microinvest's senior marketing and fundraising officer. He told RFE/RL from his office in Chisinau that Microinvest's mission is to stimulate private initiative, increase the socioeconomic potential of the country, and improve the living standard of Moldovan citizens.
With nine offices throughout the country, Microinvest has helped more than 1,600 people start or expand their businesses. They mainly focus on rural areas -- farmers, animal breeders, market sellers -- and the criteria for a loan is that a business must be legal and cannot have more than nine employees or make more than 1 million leu ($78,000) a year.
Not enough people know that it's as easy to lend $25 to someone across the world as it is to order tickets to a concert. Or that doing so can make a huge difference in someone's life.
"The purpose of the loans can be from trade to industry, to agricultural purposes, like planting of orchards and vineyards, greenhouses -- services in any of these areas," Gudumac said.
Going To The People
The loan application is simple, and the 22 loan officers who work for Microinvest regularly travel throughout the countryside telling people how they can easily borrow money.
"Actually, our loan officers go to the villages, get together with people, tell them about Microinvest and its services," Gudumac says. "And then if somebody is interested in borrowing a loan, approaches our loan officers, provides basic information on cash flow, on expected inflows and outflows of money, and together they build a cash-flow projection. Based on that cash-flow projection, the loan officer determines the amount and the period for which the loan can be lent."
In Azerbaijan, Kiva has just forged a partnership with Normicro, a Norwegian microfinance institution. Executive Director Bahminov Asgarov said Normicro is currently lending $3 million in small amounts to 4,800 borrowers.
"Mainly our clients are IDPs -- that means internally displaced people -- from Nagorno-Karabakh, the Armenian-occupied territory of Azerbaijan," Asgarov told RFE/RL. "And also refugees from Armenia, and from other areas of the former Soviet Union. And also a lot of low-income people, vulnerable people. They use our loans for establishing and expanding their private businesses, through which they improve their living conditions and eliminate [their] dependency on humanitarian aid."
Learning New Skills
Normicro's clients typically borrow money to start animal-breeding or farming businesses, small food stores, barbershops, or beauty salons, according to Asgarov. They live mostly in rural areas and villages, and Asgarov said it usually takes two loans before people begin to see the kind of profits that will change their lives.
"After getting [the] second loan and after expanding their businesses, they can successfully improve their living condition," he said. "They can pay for the education of their children, and they can also pay for medical expenses and all kinds of family [expenses]."
But the learning curve can be difficult. Asgarov says running a business efficiently involves skills that until a few years ago, people in Azerbaijan simply didn't learn.
"This is a sort of challenge for them to learn after the collapse of the Soviet Union" he explained. "We have to learn this business development, because before we didn't have either knowledge or experience [of] how to establish businesses, how to run the risk, how to make plans, and handle cash, and everything. So this offers a good opportunity for our clients, and also for our organization to teach the people how to do business development, and it's the first step for them in adapting to the free-market economy."
Kiva's Shah said the idea of connecting investors and poor businesspeople through the Internet is so simple, he expects imitators to spring up and start their own versions of microcredit websites. And he's quite happy about that.
Right now, he said, not enough people know that it's as easy to lend $25 to someone across the world as it is to order tickets to a concert. Or that doing so can make a huge difference in someone's life.
Once a Kiva lender has been repaid, they can choose to have their money returned to them, or they can reinvest it in another entrepreneur. The company says about 85 percent of lenders choose to reinvest in someone else.
Microlending In Focus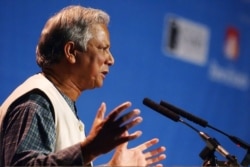 Nobel Peace Prize laureate Muhammad Yunus (epa file photo)


FOR AS LITTLE AS $9. Microcredit is the practice of giving very small loans to poor people who are considered too much of a risk for traditional bank loans. These people often do not have collateral -- things like a cow or house to secure their loan -- or even a job. Despite this, microcredit institutions will lend them small amounts of money at a low interest rate.
The average microloan-repayment rate is higher than the repayment rate for traditional lending. As an example, FINCA International -- which establishes its own small banks in villages -- boasts a repayment rate of 97 percent.
Microloans have proven such an effective way to lift people out of poverty that the Economic and Social Council of the United Nations proclaimed 2005 to be the International Year of Microcredit.
In 2006, the Nobel Peace Prize was awarded to a pioneer in the field: Bangladeshi economist Muhammad Yunus and his Grameen Bank was awarded the prestigious prize for creating major social change in Bangladeshi villages, with loans as small as $9.
SUBSCRIBE
For a regular review of civil-society developments throughout RFE/RL's broadcast region,
subscribe to "RFE/RL (Un)Civil Societies."