RFE/RL: What is your assessment of the situation with IDPs in Iraq?
Kristele Younes: The situation of internal displacement in Iraq is deteriorating in general. The UN estimates that there is now about 1.9 million internally displaced, including around 700,000 to 730,000 since the Samarra bombing of February 2006. In the north alone, which I visited along with a colleague last month, we estimated that there were about 160,000 internally displaced who moved there since 2003.
RFE/RL: What are the main causes for people leaving their houses? Is it just violence or more of a kind of ethnic cleansing that is going on certain parts of the country?
Younes: Certainly violence is the No. 1 reason people are leaving. Now, violence can take several forms. Some people are leaving because they are targeted because of their sectarian [affiliation]. For instance, we met with some Sunnis who had to leave [Al-Basrah], even though they were born and raised there, because they have received threats from Shi'ite militias. We also met with Christians who were prosecuted in Baghdad and had to go to the north to seek safety.
There are also people who are leaving not because of ethnic cleansing or sectarian cleansing, but also because the violence around them has just reached the point where they can't live any more. Even though they were not particularly targeted personally, their children could not go to school anymore, they could not go to the markets anymore. And so they tried to go anywhere where they could lead some sort of a normal life.
RFE/RL: Who are those internally displaced, in socioeconomic terms? The poorest? Those who did not want to leave Iraq or cannot leave it?
Younes: I think what you see with the internally displaced is that every single socioeconomic class inside Iraq is represented. You have upper middle class and middle class people, professionals -- doctors, for instance, academics, -- who are leaving Baghdad for the north where they can find jobs and where they will be able to practice their profession in safety.
"So there is definitely a lack of political will from both the central government and the Kurdish government to help the displaced, to facilitate the transfer of this incredibly vital assistance to the areas of displacement."
But you also have, of course, lower middle class and impoverished people who are also leaving their homes because of the violence. And those indeed in general tend to be internally displaced. They cannot afford to get a passport. They cannot afford to cross an international border. And more importantly, they can't even afford to live in Syria and Jordan even if they were able to get there. So, these are the people who usually stay in Iraq. But, again, all social and economic classes are represented, and you have people displaced throughout the Iraqi society.
RFE/RL: For at least four years now the Kurdish authorities have been more or less autonomous and independent in what they can do in the north of the country. How do they cope now with internally displaced people?
Younes: Well, getting to the north, getting to the Kurdish areas, is not the easiest of tasks. For a start, the roads to get to the north are not always the safest. And when you get there you have to get through a series of security checkpoints. And also families cannot get in if they don't have a Kurdish resident who guarantees their entry. Basically, everybody needs a guarantor who can attest to the identity and the morality of the displaced. It's also nearly impossible for a single Arab man to enter the Kurdish areas. So, there is some form of discrimination that is being played [out]. And even internal borders are no longer all open to the displaced. Some governorates like Karbala or [Al-Basrah] have even shut their borders to people who are not originally from there because they simple cannot take more people anymore. What we are seeing in the north is that there are still people getting in, but there is discrimination.
For example, even Kurds who come from disputed areas such as Kirkuk, whose status is to be determined by referendum before the end of the year, are discouraged or even prevented to get to the Kurdish governorates, because the Kurdish authorities want to keep their voting constituencies in Kirkuk. So we are seeing a very disturbing game of ethnic chess that is being played by the Kurdish authorities with Christians being favored, with Shi'a being discriminated against, and with Kurds sometimes being prevented to go to the north so that the Kurdish authorities can keep some Kurdish populations within Iraq to make sure that they have voting constituencies there.
RFE/RL: Is there any attempt to solve this problem with discrimination? Is there political pressure from Baghdad to lift those restrictions and regulations?
Younes: Frankly, when we were in the country we did not see any form of political pressure or assistance provided by the government of Baghdad to the displaced people. On the contrary, the government of Baghdad seems unable or unwilling to assist it's own population. One example of that is that is the fact that before 2003 most of the Iraqi population was benefiting from the public distribution system of food and diesel -- the PDS -- which was a result of oil-for-food program. This assistance was vital to most Iraqis. And it is today more vital than ever that they get this food and diesel assistance.
Unfortunately, the public distribution of food has also become the basis of the voter-registration system. Basically, your town of residence issues every family a card, a food-ration card, which is also a voter-registration card. It means that when the people get displaced, it is incredibly difficult for them to transfer their food-ration cards because it means that they are transferring as well their voter registration. And the central government does not have an interest in seeing its population moving away. Similarly the Kurds do not want to see Arabs have voting rights in the Kurdish areas.
So there is definitely a lack of political will from both the central government and the Kurdish government to help the displaced, to facilitate the transfer of this incredibly vital assistance to the areas of displacement. So not only people are leaving behind their homes, their lives, their friends and neighbors, they are also leaving behind this incredibly vital assistance that they were getting.
RFE/RL: What is the typical lifestyle of the internally displaced once they reach the Kurdish-administered areas? What do they do there? Are they able to get work? Are they able to find any housing there? When Iraqi refugees started to move into Jordan, the prices on real estate mounted. Is this the case in the Kurdish-administered areas of northern Iraq as well?
Younes: Certainly, it is extremely expensive to live in Kurdistan. Prices there are much higher than they are in Baghdad. For instance, fuel in Kurdistan is three times as high as it is in Baghdad. Most of the displaced are renting houses. In fact, less than 1 percent of the displaced in Iraq are in camps. So most of them are either staying with host families, or in public buildings, but the very vast majority is renting houses. And the cost of the rent is extremely high in Kurdish areas. Many are forced to contemplate the idea of going back or to actually go back to very dangerous areas because they simply cannot afford to live in Kurdistan any more.
We met with a Sunni family from Baghdad who had to leave because they had received death threats. And they were in Irbil, in the Kurdish area, and they were looking to go back to Baghdad because they simply could not afford life there any more. This is a type of situation that we really do not want to see happen. Most of the internally displaced are not able to find work. When they are able to find work, it's daily work. It provides no security, and it's not enough money to let them afford the cost of living. Schools are public but there are very few Arab-speaking schools in the Kurdish areas. They are only in the main towns. And even in the main towns they are not enough to cater to the entire Arab population. So really the economic situation of the displaced is very worrying.

Iraq's Refugee Crisis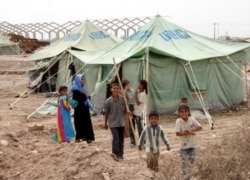 Children at an Iraqi camp for displaced people outside Al-Nasiriyah in May 2006
REFUGEES FLEE SECTARIAN VIOLENCE The UN High Commissioner for Refugees has estimated that over 2 million Iraqis have fled sectarian violence for Jordan, Syria and other neighboring states, while an equal number may be internally displaced within Iraq..... (more)
RELATED ARTICLES
Neighboring States Call For Help With Refugees
Refugees Under Pressure in Syria, Jordan, Lebanon
Displacements Upset Religious, Ethnic Communities
Official Says Refugees To Get New Passports Soon