Georgia: EU Envoy Touts Confidence-Building Measures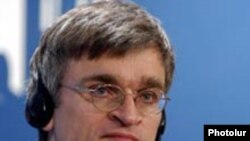 Ambassador Peter Semneby (file photo) (Photolur) BRUSSELS, April 3, 2007 (RFE/RL) -- The European Union's special representative for the South Caucasus, Peter Semneby, has been consulting EU member states on a raft of proposed confidence-building measures for Georgia and its breakaway regions of Abkhazia and South Ossetia. The measures emerged after a visit by an EU team of experts to the region in January. Semneby met with EU ambassadors for a second round of talks on March 28. RFE/RL correspondent Ahto Lobjakas caught up with Semneby in Brussels to discuss his approach.
RFE/RL:
You have now twice appeared before the EU's Political and Security Committee [EU ambassadors in Brussels who deal with foreign-policy issues] to try to gain their support for the series of measures you formulated after EU officials in Georgia visited Abkhazia and South Ossetia. Could you please elaborate what the proposed measures entail?
Peter Semneby:
What this is all about is to see how we can use the instruments that we have already at our disposal, that is, the European Neighborhood Policy [ENP], some second pillar instruments -- [the EU's] common foreign and security policy instruments -- in order to engage them in the conflict regions for the purpose of contributing to conflict resolution, increasing confidence between the parties, and so on. So we -- nothing of this is really very dramatic, it's just a way of how we can use what we already have on the table.
SEMNEBY'S MEASURES:
Opening programs of the EU's European Neighborhood Policy to individuals from Abkhazia and South Ossetia.
Resuscitating trade between the impoverished breakaway regions and Georgia proper, as well as with other countries.
Enhancing the EU's involvement in the security sector -- with the bloc playing a 'facilitating and advisory role' for a small number of EU personnel.
Pressing for greater emphasis on minority rights in Georgia.


RFE/RL:
Involving Abkhaz and South Ossetian residents in exchange projects with the EU will likely result in problems with visas and passports, seeing as most have Russian passports and some, in the case of Abkhazia, Abkhaz passports, while Georgia insists they must obtain and travel on Georgian passports. Do you have any possible solutions to this problem in mind?
Semneby:
The discussion that we're having at this moment is about guidelines and principles and there are lots of technical issues that will have to be worked out. Tthere are lots of projects that will come out of this that will have to be worked out with the parties. Although I do fundamentally believe that these are things that we should be able to do without touching too many political sensitivities, I do not have too many illusions -- it would be foolish not to anticipate difficult negotiations on the details of these proposals.
RFE/RL:
The same caveats would seem to apply to trade issues between the breakaway regions and Georgia, as, again, issues like certificates of origin will arise. For example, in Moldova, where companies in separatist Transdniester have begun to register with Moldovan authorities to get export licenses, such issues seem to have been worked out. Do you have any such hopes for Georgia?
Semneby:
I would hesitate to use any model that is being used or has been used in any other situation as an example here, because that immediately introduces a political element and invites parallels with the political conditions with this or that other conflict and I'm sure that whatever we will come up with will be different than any other solution or model that exists. These are very specific cases with their individual characteristics.
RFE/RL:
Talking about the security sector, do you see any EU personnel being stationed in either breakaway region?
Semneby:
Again I don't know. What we want to -- and it's a secondary issue really. The primary issue here is the issue whether we should have personnel that would engage on these issues, and where they will have their base is another issue, maybe in Brussels. I don't know, it's something we have to look into.
RFE/RL:
Overall, for you to be able to suggest these measures in the first place, does that mean there has been some sort of rapprochement between either or both of the breakaway regions and Tbilisi, or this purely an outside initiative?
Semneby:
Unfortunately, it's rather been the other way, that the tensions have been rising in the course of the last year. It's rather a reflection of the fact that the European Union is now equipped with a number of instruments and levers that we have to try to use for best effect in the conflicts -- it would be, we would fail our responsibilities if we would not try to do that. This being said, there are also some positive signs that we could take advantage of. We have seen after a very difficult and tense period last autumn a very cautious rapprochement between Georgia and Russia, and this is of course something that will improve the conditions for the kinds of measures that I'm talking about here as well. I would also like to add to this that, in general terms, Russia's view of the EU playing a role here is on the whole a rather positive one.
RFE/RL:
When suggesting these measures, you must obviously be aware that the regimes in South Ossetia and Abkhazia will try to exploit any recognition they get from EU to serve their own interests. Do you see this threat as manageable?
Semneby:
Of course, there are risks involved. That is very clear. We have to take account of them, the possible risks in every single project that we devise. On the other hand, I think there are some aspects of these measures that will at least enhance the exposure of the separatist regions, but there are also other parts that will serve to strengthen the links between those regions and Georgia. As long as we continue to treat this as more or less a package, a balanced package, I think these different tendencies -- one part of the project tending in one direction and [another] in the other direction, I think this can be handled and managed.