Ukraine's ambassador to the EU, Roman Shpek, says that as a "European country," Ukraine has a right to join the bloc -- a sentiment that Brussels gave cautious support to today. But the highlight of the summit for Ukraine will likely be shorter-term gains -- easing visa restrictions and cross-border movement with its EU neighbors.
European Country/European Future
Ukraine chose the eve of a summit meeting with the European Union to revive its controversial bid to win recognition to its eventual right to EU membership.

The bid is controversial for the EU, in that talk of any further expansion is becoming increasingly unpopular.
Ukraine would like to upgrade its existing partnership treaty with the EU once it expires in 2007.
But Ukraine's membership aim is not without support. European Commission spokesman Johannes Laitenberg said today that Commission President Jose Manuel Barroso sees Ukraine as a "European country."

"President Barroso has indeed said that Ukraine is a European country that should have a European future," Laitenberg said. "As far as the agenda for EU-Ukraine relations is concerned, we have a clear and proactive agenda."

Ukrainian EU ambassador Shpek says there is nothing ambiguous about Kyiv's ambition. Speaking to journalists in Brussels on October 25, he quoted the EU's own Maastricht Treaty, which says that any European country may apply to join the bloc.

"We don't ask about the date of negotiations, or that of membership," Shpek said. "We ask: 'Please publicly recognize that Ukraine, like each European state, has a right to apply [for EU membership] according to Article 49.' Nothing more, for the time being."

EU treaties offer no definition of the term "European country." But Barroso and other EU officials have repeatedly described Russia as a European country, so it is only logical to extend the same description to Ukraine.

For now, however, the EU maintains relations between the two sides are adequately accommodated by the EU's Neighborhood Policy (ENP).

On The Continent

Ukraine, however, rejects this limitation. Shpek said Kyiv "accepts, but does not welcome" the ENP, as it does not consider itself a "neighbor."

He said Ukraine does not feel comfortable grouped together with countries like Morocco, Libya, or Israel. Instead, the country considers itself to be on a par with Serbia, which is guaranteed membership.

Shpek said that for Ukraine, Europe's borders lie in the Urals.

Accordingly, Ukraine would like to upgrade its existing partnership treaty with the EU once it expires in 2007. Kyiv would like the new treaty to affirm that Ukraine will one day be a member of the EU.

Should that not prove possible, Shpek said Ukraine may follow Poland.

Warsaw, which was denied candidate status in the early 1990s, nevertheless unilaterally implemented its cooperation agreement with the EU as if it were a candidate member.

Barroso has indicated that no new language will be added to the new treaty to reflect Ukraine's EU membership goals.

At the Helsinki summit, Kyiv will have to content itself with shorter-term concessions from the EU.

Shpek said Ukrainian Foreign Minister Borys Tarasyuk and EU External Relations Commissioner Benita Ferrero-Waldner will sign a long-awaited EU-Ukraine visa facilitation agreement.

"The Ukrainian minister of foreign affairs on Friday will sign together with Commissioner Ferrero-Waldner a visa-facilitation agreement and a readmission agreement," Shpek said. "And Ukraine welcomes the European Union's initiative that also European Union member states will clear a memorandum about small cross-border traffic."

Visa-For-Treaty

The visa-facilitation agreement will make it easier and cheaper for Ukrainian citizens to acquire EU visas. It return, Kyiv has consented to sign a readmission treaty with the EU, committing it to repatriating from the bloc any illegal immigrants who enter via Ukrainian territory.

The European Commission earlier this month proposed measures to facilitate small cross-border traffic on the EU's external borders, but this initiative still awaits member-state approval and requires the adoption of additional legislation.

Shpek also said the EU will offer assistance to help build up Ukraine's border-guard and customs services.

He said Ukraine will adopt the legislation necessary for the country's joining of the World Trade Organization (WTO) in December or early next year. Joining the WTO is a precondition for free trade with the EU.

Shpek also rejected suggestions that Russia may block Ukraine's accession to the WTO, saying both countries have undertaken not to present obstacles to each other.

Shpek said Ukrainian Prime Minister Viktor Yanukovych will not lift border controls against the Moldovan breakaway region of Transdniester. Ferrero-Waldner says she has received similar assurances from Kyiv. The EU is currently monitoring Trandniestrian borders to force its external trade to respect Moldovan laws.

Shpek added, however, that Ukraine doesn't "rule out new ideas and instruments" for the Transdniestrian border.

Alternative Pipelines

Shpek also said Ukraine is an ardent supporter of the EU's quest for alternative energy sources to reduce its dependence on Russia.

He said Kyiv is fully behind the so-called Nabucco pipeline project, which would turn Turkey into an important transit hub for the EU.
"For us, Nabucco, it's a very important project because it will deliver gas not only from Iraq, Iran, Pakistan, but also from Turkmenistan and Azerbaijan can reach the EU."

Shpek said Ukraine is also "ready to discuss" an initiative to build a gas pipeline across the Black Sea from Georgia to Ukraine.

He acknowledged the Black Sea route as being "shorter" than Nabucco, but added the project's approval depends on EU member states -- not all of which appear to be in favor.
The EU's Visa Regime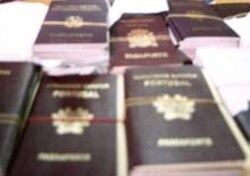 Standard visas to enter the European Union cost 35 euros ($44). However, the price rises to as much as 70 euros if the person applies within three days of departing.
Countries outside the European Union can negotiate their own treaties with the bloc.
Some visa fees are waived for certain applicants, notably for officials, students, athletes, scientists, or people receiving medical treatment.
Decisions on granting visas usually take 10 calendar days.
EU visa agreements do not apply to the United Kingdom and Ireland. Those countries have opted out of EU visa and immigration policy.
From January 1, 2007, the price of a Schengen-zone visa goes up by nearly 75 percent from 35 euros to 60 euros. Twenty-six countries are signatories to the Schegen agreement. They include all the EU states, with the exception of Ireland and the United Kingdom, and include the non-EU states of Iceland, Norway, and Switzerland. However, only 15 of the signatories have so far implemented the system. The new EU members from Central and Eastern Europe are among those countries yet to implement the agreement. EU officials have said the price rise is due to the need to integrate biometrics identifiers, for instance fingerprints, into the visa-application process.
Under readmission treaties, EU member states can ask a country to readmit illegal immigrants. That applies to a country's nationals or any third-country nationals who have transited through its territory.