Yanukovych was in the EU capital last week, but came back in order to meet European Commission President Jose Manuel Barroso -- and reiterate that Kyiv's NATO bid is, for now, on ice.
Yanukovych reassured Barroso that Ukraine is still looking to join the European Union and World Trade Organization.

He also said that Ukraine was pumping enough gas to ensure that Europeans won't face a frosty winter -- as they did for a few icy days last January, when Russia blocked its shipments to Ukraine.
"We should move step by step in order for Ukraine and the European Union to be able to sign an agreement on a free-trade zone within the shortest term after Ukraine's accession to the World Trade Organization."
And Yanukovych also restated his government's intention to push ahead with reforms necessary to establish a free-trade zone with the European Union.

"We should move step by step in order for Ukraine and the European Union to be able to sign an agreement on a free-trade zone within the shortest term after Ukraine's accession to the World Trade Organization," he said.

Linked to that was Yanukovych's assurance that Ukraine was not attempting to join a customs union with Russia, something that would scupper the plans for an EU-Ukraine free-trade zone.

"I have answered this question many times," the Ukrainian prime minister said. "It goes against the Ukrainian Constitution and we will never do that."
EU Fears
Since Yanukovych's appointment as prime minister in August, following months of political deadlock, there were fears in the EU and United States that Ukraine would reverse the Westward course it has taken since the 2004 Orange Revolution.

Yanukovych, the loser of the hotly contested presidential campaign that sparked the revolution, campaigned on a pro-Russian platform.

Visiting Brussels last week and meeting with Finnish Foreign Minister and current EU chair, Erkki Tuomioja, Yanukovych gave EU officials an idea of his government's intentions -- namely that they would continue seeking membership of the EU.

His comments then were cautiously welcomed. And Barroso today reiterated the EU's current offer to Ukraine: closer ties but no mention of membership.
"Our objective is to bring Ukraine closer to the European Union. Our objective is also to support political, institutional, and economic reforms in a way [that would] contribute to economic growth and the improvement of the living standards of Ukrainian citizens," Barroso said.

NATO Bid On Ice
Prime Minister Yanukovych also elaborated on his government's position regarding NATO.
In Brussels last week, Yanukovych irked his president, Viktor Yushchenko, by saying there was not enough popular support to join NATO and Ukraine should move in gradual steps toward its bid to join the alliance.
Yushchenko described Yanukovych's comments as wrong and said they must be corrected.
But today in Brussels, Yanukovych remained defiant, saying the NATO question would be decided by a referendum and that his position has the support of the parliament.
"The statement that I made during my previous visit to Brussels had been agreed upon with the [parliamentary] coalition's council," Yanukovych said. "And this is the position of the parliamentary coalition [and this position] has been voted for. Today, it is our parliament that practically determines our home and foreign policy -- the principles of our home and foreign policy."
(RFE/RL's Brussels correspondent Ahto Lobjakas contributed to this report.)
Viktor Yanukovych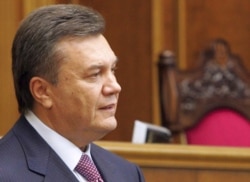 Prime Minister Viktor Yanukovych addresses Ukraine's Verkhovna Rada on August 6, 2006 (TASS)


UP FROM THE ASHES. On August 4, 2006, the Ukrainian legislature ended four months of political standoff by confirming Viktor Yanukovych as prime minister. Yanukovych's pro-Russian Party of Regions won the largest block of seats in the country's inconclusive March legislative elections. His confirmation capped a remarkable political comeback for Yanukovych after his defeat by Viktor Yushchenko in Ukraine's Orange Revolution....(more)
RELATED ARTICLES
Former President Comments On Yushchenko's Compromise
President Compromises For National Unity
Kremlin Insider Hails Developments
Former U.S. Envoy Says West Can Work With Yanukovych
ARCHIVE
RFE/RL's
coverage of Ukraine
. The website of
RFE/RL's Ukrainian Service
.


A photo gallery of political developments in Ukraine since the March 26 elections (Flash required)