Speaking after meeting with NATO's secretary-general, Jaap de Hoop Scheffer, Yanukovych said Ukraine should "proceed gradually" as support for NATO accession in Ukraine "has decreased in the past two years."
He said that Kyiv will "significantly strengthen the information campaign" about NATO within Ukraine and then "when the time comes, the next step will be taken."
This is Yanukovych's first official visit to Brussels for talks with NATO.
In earlier meetings with EU officials, Yanukovych said Ukraine is looking at enlarging its cooperation with NATO, but said that NATO integration enjoyed only "limited support" in Ukraine.
By contrast, Ukraine's drive to join the European Union has the "full support" of Ukrainian society, he said.
Yanukovych told EU External Relations Commissioner Benita Ferrero-Waldner that Ukraine wants to be a "reliable bridge" between Europe and Russia.
Yanukovych is the leader of the pro-Russian Party of Regions. President Viktor Yushchenko agreed to name him prime minister after Yanukovych pledged to follow a pro-Western agenda.
During their meeting, Yanukovych and Ferrero-Waldner signed a memorandum of understanding that paves the way for European financing of oil and gas meters on pipelines across Ukraine's borders.
Ferrero-Waldner said the deal will increase the "transparency, reliability and safety of energy supplies to Ukraine, but also transit to the European Union."
(AFP, "Ukrayinska pravda," UNIAN)
Torn Between East And West
Torn Between East And West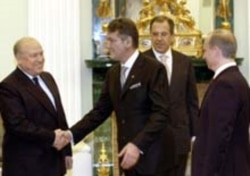 Yushchenko (center) with Russian Ambassador to Ukraine Viktor Chernomyrdin (left), Russian Foreign Minister Sergei Lavrov (rear), and Russian President Vladimir Putin (AFP file photo)
IN WHOSE ORBIT? Just over a year ago, tens of thousands of Ukrainians led an extended public uprising that toppled the country's entrenched, pro-Russia regime. But the country remains deeply divided between the east, where ethnic Russians look toward Moscow, and the west, which yearns for deeper integration with Europe. Can Ukraine elect a legislature that represents this torn country? (more)
See also:
Moscow Silent In The Run-Up To Ukraine's Elections
Is Kyiv On Stable Path Toward Integration With World Economy?
Western Neighbors Keen To Help Transition To Democracy

Click on the image for background and archived articles about Ukraine's March 26 elections.




Click on the image to see RFE/RL's coverage of the Ukrainian elections in Ukrainian.