U.S. House Speaker Arrives In Syria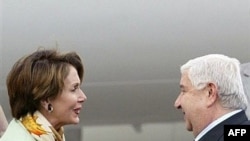 Syrian Foreign Minister Walid al-Muallim (right) welcomes Pelosi to Damascus today (AFP) April 3, 2007 -- U.S. House of Representatives Speaker Nancy Pelosi arrived in the Syrian capital of Damascus today on a visit that the White House has criticized as a move that undermines U.S. foreign policy.
Pelosi has said her talks with Syrian officials are an important step toward renewing dialogue with Damascus.
She is scheduled to meet Syrian President Bashar al-Assad on April 4.
Washington accuses Syria of interfering in Iraq and Lebanon and sponsoring terrorism. Damascus denies the charges.
Pelosi is on a Middle East tour that has already taken her to Lebanon and Israel. She will continue on to visit Saudi Arabia.
(AFP, AP, SANA)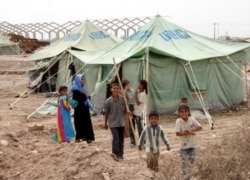 Children at an Iraqi camp for displaced people outside Al-Nasiriyah in May 2006
REFUGEES FLEE SECTARIAN VIOLENCE The UN High Commissioner for Refugees has estimated that over 2 million Iraqis have fled sectarian violence for Jordan, Syria and other neighboring states, while an equal number may be internally displaced within Iraq..... (more)
RELATED ARTICLES
Neighboring States Call For Help With Refugees
Refugees Under Pressure in Syria, Jordan, Lebanon
Displacements Upset Religious, Ethnic Communities
Official Says Refugees To Get New Passports Soon