The refusal reportedly forced the aircraft to make an unplanned stop in Dubai to file a new flight plan.
Japanese officials confirmed that al-Maliki's arrival had been delayed and that they expected him to arrive for his first tour to Japan and South Korea tonight rather than in the early afternoon.
Al-Maliki's adviser, Sadiq al-Rikabi, said the plane entered Iranian airspace on the evening of April 7 and "suddenly" received an order by Iranian aviation authorities to go back.
An Iranian Foreign Ministry spokesman said that as a technicality, all flights over Iranian territory require prior authorization. But he did not explicitly say that Iran had not allowed al-Maliki's plane to overfly its territory.
(compiled from agency reports)
Sharing Iraq's Oil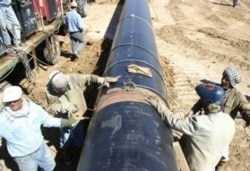 The pipeline from Kirkuk to Turkey is one of Iraq's main oil-export lifelines (epa file photo)

THE FUTURE OF THE ECONOMY. The uneven distribution of Iraq's oil resources has long been a source of tension among the country's ethnic and sectarian groups. Since the fall of Saddam Hussein, the tangled quest to find an equitable way to share oil revenues has been a major stumbling block on the road to national unity.
RELATED ARTICLES
Kurdish Oil Law Poses Problem For Baghdad
Ethnic Tensions Increasing In Oil-Rich City
Government Struggles To Revive Oil Infrastructure
Iraqi Oil Sector Faces Tough Times
Kurds Claim Their Right To Oil